Claire Kittle
Lovely Claire Kittle is the stunning wife of NFL tight end George Kittle; her stud has been playing for the San Francisco 49ers since 2017 when they selected him in the 5th round (146th overall) in the 2017 NFL Draft. Prior to joining the 49ers, Claire's hubby played college football at the University of Iowa, his dad's alma mater.
George Kittle Parents
6'4 George Krieger Kittle was born on October 9, 1993, in Madison, Wisconsin, his family later relocated to Iowa. Kittle is one of two children born to Jan Krieger and Bruce Kittle, also proud parents to George's stunning sister Emma Kittle.
Jan Krieger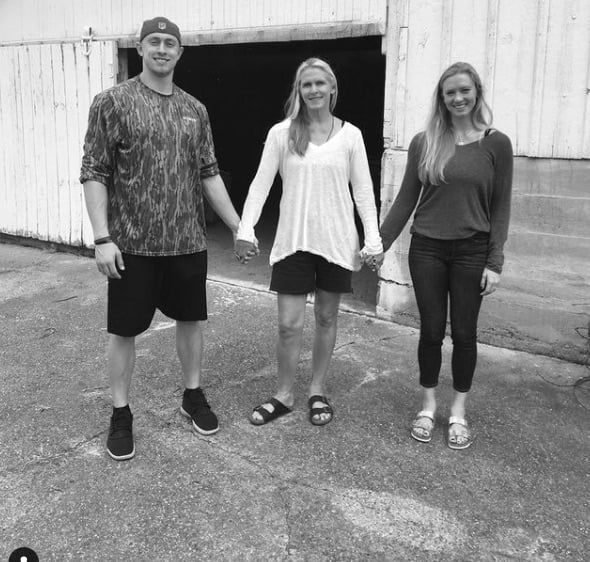 Jan Elaine Krieger Kittle, born on September 8, 1959. Her sister Amy Krieger is the mother of NFL tight end Henry Krieger Coble who played for the Broncos, Colts, and Rams from 2017 to 2018.
Bruce Kittle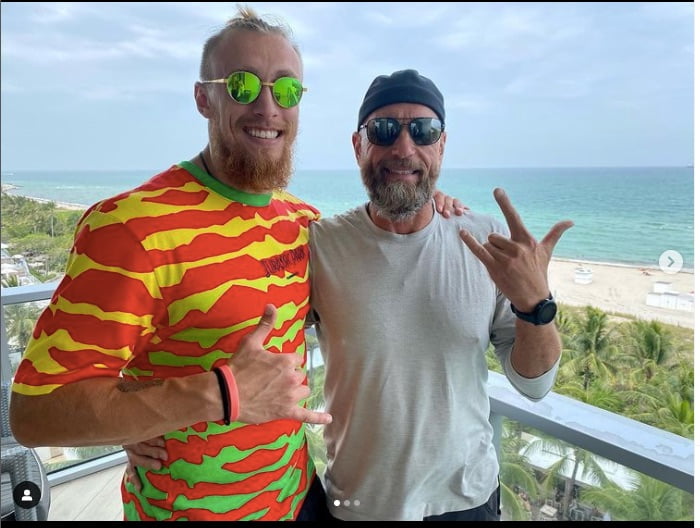 George Kittle's dad, Bruce Kittle born on January 20, 1959, a Cedar Falls High School graduate was a four-year letter winner and a two-year starter at offensive tackle, co-captain of the 1982 Rose Bowl, graduated with a Bachelor of Science in Labor and Industrial relations from the University of Iowa in 1982.
He also holds a Master of Divinity in Theology and Social Justice from the Chicago Theological Seminary and a JD in Law from the University of Iowa. He is the host of the Hidden Pearls Podcast and a Mindful Awareness and Performance Coach at Thunderbird Performance. Mr. Kittle was an Assistant Football Coach, Recruiting Coordinator, and Player Development at the University of Oklahoma from 2010 to 2013.
Served as an offensive line coach at the Lipscomb Academy  and a Criminal Defense Attorney at Petrzelka & Breitbach; he also worked at the 6th Judicial District Department of Correctional Services
George Kittle Sister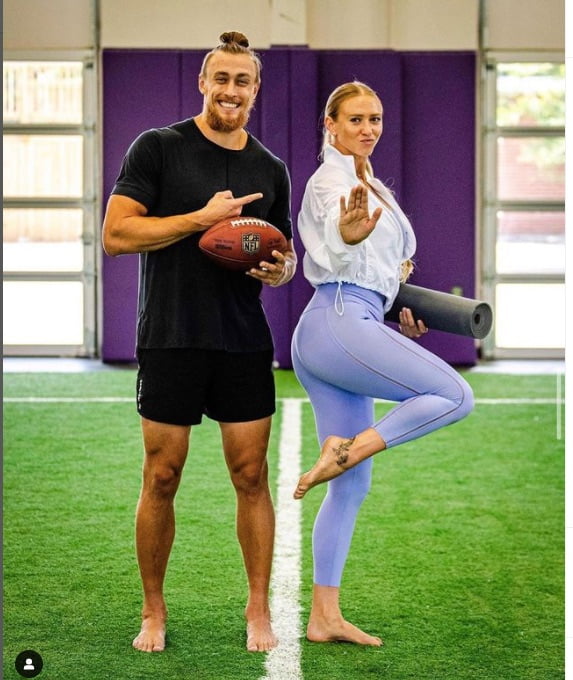 Emma Kittle
George Kittle's older sister is Emma Kittle, she was born on October 17, 1990. She graduated in 2014, with a Bachelor's degree in Online Journalism. Emma Kittle is an independent health and wellness coach running her own EmmaKittle.com.
She is also a project coordinator at Frantz Community Investors in Cedar Rapids, Iowa; before that, she was a digital editor at HudsonMOD, in 2014, was an online editorial intern at Brides of Oklahoma, customer service rep at 24 Hour Fitness, and a personal Trainer at FitnessOne.
George Kittle College
George Kittle played college football for the Iowa Hawkeyes at the University of Iowa from 2012 to 2016. In his freshman year, Kittle caught five passes for 108 yards in three games. In his sophomore year, Kittle caught one pass for 25 yards in three games.
He caught 20 passes for 290 yards, six touchdowns in 10 games his junior year, and 22 passes for 314 yards and four touchdowns in nine games his senior year.
George Kittle NFL Career
The San Francisco 49ers selected George Kittle in the 5th round (146th overall) during the 2017 NFL draft on April 29, 2017.
He signed his rookie contract with the 49ers on May 4, 2017.
On October 7, 2017, Kittle made his NFL debut against the Carolina Panthers.
On October 31, 2019, he suffered a knee injury against the Arizona Cardinals.
Kittle and the San Francisco 49ers were defeated by the Chiefs 31-20 at Super Bowl LIV.
On August 13, 2020, Kittle signed a contract extension with San Francisco.
On September 17, 2020, he suffered a foot injury.
He had a broken bone on his foot on November 5, 2020.
On October 9, 2021, suffered a calf injury.
 Kittle was named NFC Offensive Player of the Week on December 15, 2021.
George Kittle NFL Stats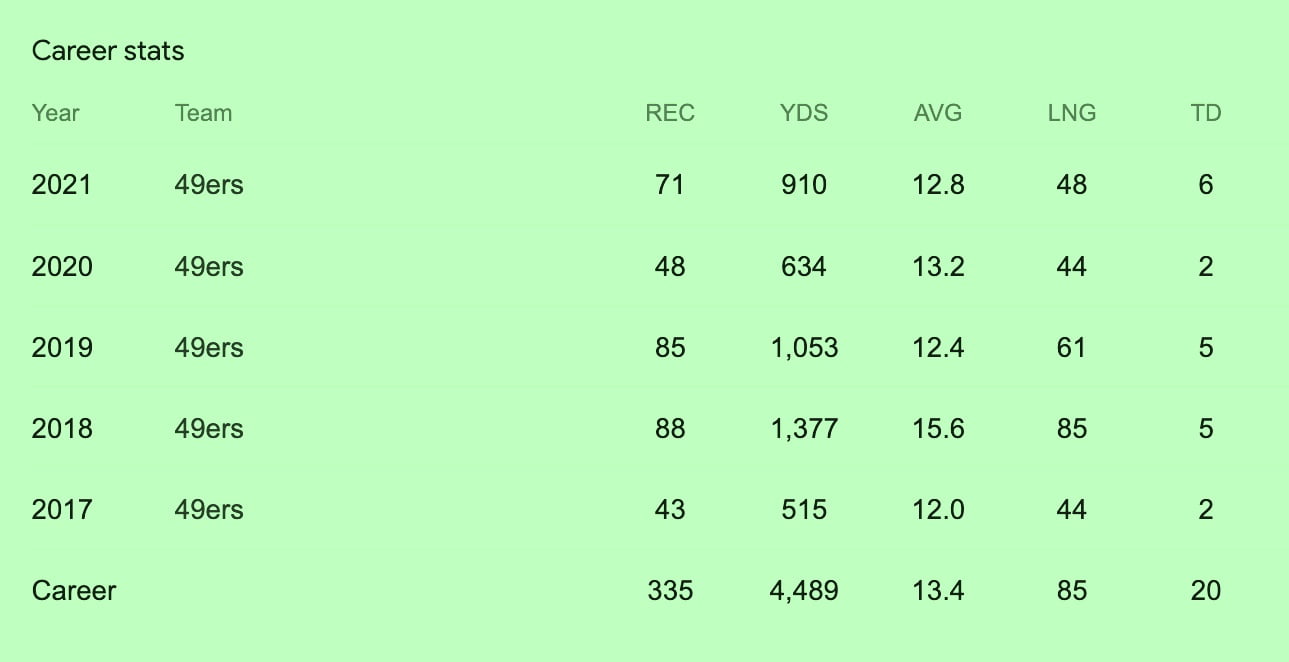 George Kittle Net Worth
As of 2023, and according to the guys at Wealthy Gorilla, George Kittle has a net worth estimated at $3 million. In addition to his salary from his contract, Kittle earns from his endorsements deals with Xbox, Budlight, Nike, Zenni, PFL Professional Fighters League, Dr. Teal's, and Gatorade.
George Kittle Contract & Salary
On August 13, 2020, George Kittle's contract is worth $75 million, he signed a five-year deal that included a signing bonus of $18 million, $40 million guaranteed. Kittle annual salary is $15 million.
On May 4, 2017, George Kittle signed his first contract, a four-year, $2,698, 287 million contract with a signing bonus of $298,287.
George Kittle Wife
Claire Kittle
Mrs. Kittle was born Claire Colette Till in 1994, in Dubuque, Iowa; she is the daughter of Marty and Shelley Till (nee. Bardon) ages 57 and 51, respectively, also proud parents to Claire's younger brother Riley.
Claire's mom is a former college basketball player at Drake.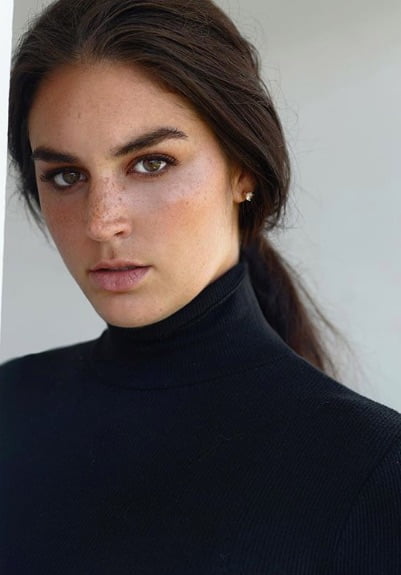 Claire Kittle graduated in 2014 from Wahlert High School and played basketball at the Univerity of Iowa, where she met George. She graduated with a Bachelor's degree in Human Physiology in 2016.
Claire's working experiences include being a physical therapy assistant at Dubuque Physical Therapy, a host and server at Monica's Restaurant, Camp Instructor, Counselor, and Dorm Advisor at the University of Iowa.
She later worked as a physical therapy assistant at the University of Iowa Hospitals & Clinics Rehabilitation Therapies; subsequently owned The Fitness Barre in North Liberty, Iowa. Since 2016, she has been the owner and Wellness Specialist at Claire Till Fitness.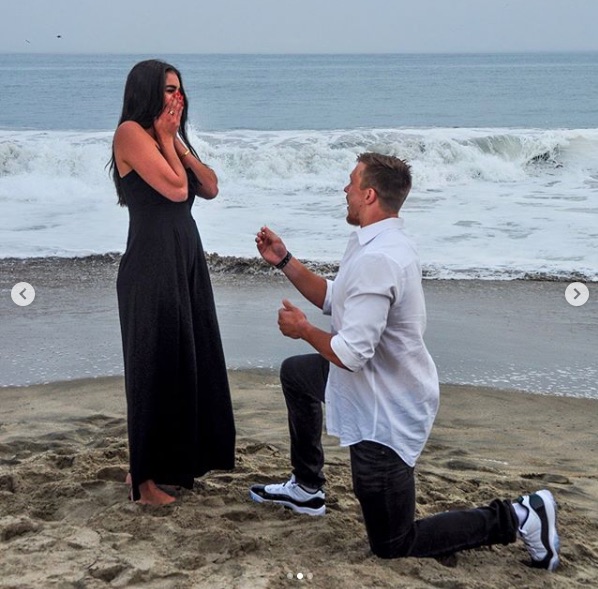 George proposed at Twins Lakes State Beach in August 2018; they tied the knot in a civil ceremony in April 2019.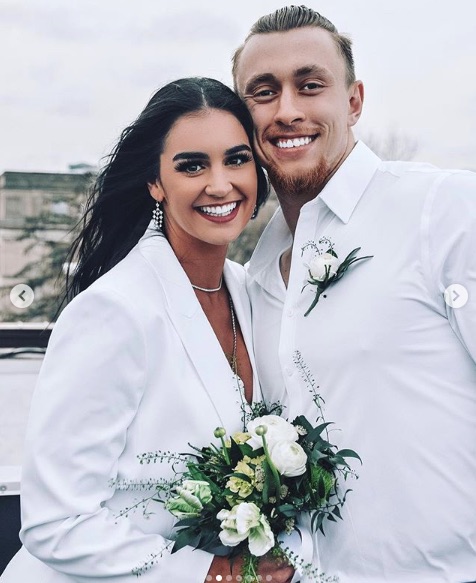 According to their wedding registry, they plan their religious wedding on March 27, 2010.

Claire Kittle is pretty active on social media, she has over 98K  Instagram followers.
Related Story: Meet Deebo Samuel Girlfriend Mahogany Jones