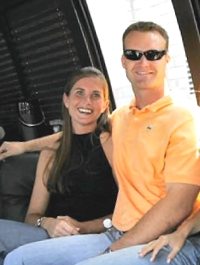 Hyla Ross really is a great wife. She is very active in the charities she and her husband support, such as the Hudson Foundation, Pediatric Cancer Research Foundation and the Kevin Faulk Foundation to name a few.
She and David have known each other for over eighteen years, but the hardest time hit them just this year, when David was hit in the head earlier this year. It was the second concussion for Ross, and he couldn't figure out why his wife kept telling him he wasn't acting normally.
Hyla, mother of their two children, six year old daughter Landri and four year old son Cole, says of those days,"It wasn't the person, the man, the husband I've known. It was a hard spot to be in for a spouse knowing him as well as I do and knowing he wasn't ok.  It was kind of scary, hoping that that wasn't a permanent change."
Ross didn't realize how different he was and didn't understand why his kids would be so restless around him. Says Hyla,"Once I started to see him come back, I was actually more relieved than I knew."
Things have turned around for David, who is playing in the first world series of his career at 36. He started in the first game and did a great job. His family were all their to lend their support and cheer him and the Red Sox on. Tonight, he will be starting again in St. Louis, and hopefully the Sox will head back to Boston with a 3-2 lead in the series.
Whatever the outcome, David Ross is one lucky guy, he's living his dream with his beautiful and very supportive wife and family.