Ingrid Harbaugh
Meet  John Harbaugh and his amazing wife Ingrid Harbaugh! Her husband and the rest of the Baltimore Ravens faced his brother Jim Harbaugh at the Super Bowl XLVI. And there we saw Ingrid sitting next to Jim's wife Sarah Harbaugh, both Mrs. Harbaughs are pretty good friends.
John Harbaugh is happily married to Ingrid Alison Harbaugh a Lutheran born on March 6, 1967. For some time Mrs. Ingrid Harbaugh lived in Newton Square, PA; later on in East Tawas, MI and now a dear resident of Reisterstown in Maryland where her famous hubby coaches the Ravens and she takes care of her home and their daughter Alison.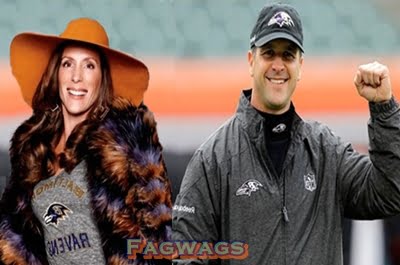 It was in 1985, while she was working in the office of the baseball team at a small Michigan college when she first met her future husband John who was at the time working as a graduate assistant for his father, at Western Michigan.
That's how it all started. I knew from the beginning because I appreciated the depth of her personality and character. We were both young and still figuring out where we stood on things. I knew she had a good heart..
They started dating after that. It was a plush toy that helped him popped the question.
I picked out a ring and put it on the trunk of a stuffed elephant doll. When I handed Ingrid the gift, she noticed and, next thing you know I got down on one knee and asked her to marry me.