Jasmine Lennard
Jasmine Lennard, known as the former girlfriend of soccer star, Cristiano Ronaldo is calling him a psychopath.
Lennard a 33-year-old English model, actress and TV host –has vowed to help the woman who is accusing Ronaldo of rape.
Born July 25, 1985; the Londoner is the daughter of Marilyn Galsworthy and Brian Lennard. She has a twin sister named Pandora.
Jasmine gained public exposure back in 2005 after appearing in the reality TV talent search Make Me a Supermodel. She was a finalist on the show. After the show, she pursued a career as an actress and TV host appearing in the film Revolver.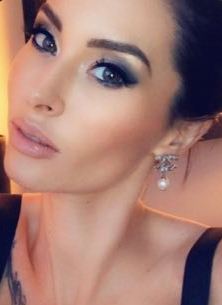 Since then, she's appeared in a number of TV Reality shows such as Celebrity Big Brother 10 and The Weakest Link.
Jasmine's recent claims on the soccer star currently playing for Juventus in Italy –have it seems, the power to really damage his career. The model and reality TV star says she has hundreds of messages from Ronaldo where he even 'acknowledges SERIOUS mental health issues.'
Jasmine Lennard who sounds really serious about her claims, tweeted at Mayorga –the woman accusing Ronaldo of rape –and her legal team offering her help. Lennard also added "No one would believe the things I'm going to share if I didn't have proof but thankfully — because I'm a smart girl — I have an abundance of it. Game's up."
Jasmine and Ronaldo were a thing around 2008. She then became a mom, giving birth to a son named Phoenix in 2010 –product of her relationship with Shifty Shellshock –whom she allegedly married in 2012, however the union was brief and the two separated after a few months. The ex-couple had a tumultuous relationship.
Lennard splits her time between London and California.
Check out Jasmine Lennard on Instagram here.