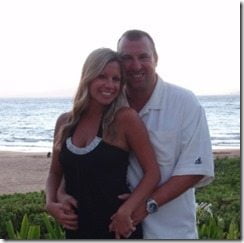 Who wouldn't want to be Bret Bielema right about now!! He is hands down the most successful coach in Wisconsin history with two Big-10 titles and two victories in postseason bowl games and now leading Arkansas, but leaving football coaching on a side; the 43-year-old is married to one hot 27 year old! Let's meet Jen Hielsberg or Mrs. Bielema.
The blond gal was born Jennifer Hielsberg, she graduated from the University of Wisconsin in 2004 as a psych major and spent the next years working as a bank teller. She met Bret in Las Vegas, Nevada while she was on vacation from her job in Tampa Bay Florida. The mismatched couple for many met at a black jack table, I guess if luck is on your good side not only money can be found at the Vegas casino's.
The young wife goes now for just Jen Bielema and she once had aspirations to be a model and actually pursued it putting up a profile on the Model Mayhem site but don't bother looking for it because it has been deleted. Jen's Facebook page is set to private as well as her LinkedIn profile; wonder who's decision was that?
The courageous coach introduce himself to Jen getting her phone number and the couple began a three year long-distance affair which finally turned into a more serious commitment announcing their engagement on April 1, 2011 and saying "I Do" the following year on March 11, 2012 in Madison.
Now Jen seems to be enjoying the good life on being major football coach wife posting pictures on twitter and showing her fantastic body! Jen's hubby one lucky fellow! Seems no children are in the works for now but she surely enjoys the company of her cute little dogs!
You can follow Bret Bielema's Wife Jen Bielema on Twitter here and Instagram here.