Julie Simmons
Julie Simmons is the proud mother of college basketball player and possible first overall pick for this year's NBA draft, Ben Simmons.
The 2016 NBA Draft is around the corner (June 23rd) and nobody could be more excited for Ben Simmons that his lovely mother. According to reports, her 19-year-old son has been informed by the Philadelphia 76ers that they will select him with the No. 1 pick in Thursday's NBA draft.
The Aussie baller, attended Box Hill Senior Secondary College and Montverde Academy in Montverde, Florida, and has represented the Australian national team. Julie Simmons' son most recently played with the LSU Tigers.
Australian native Julie Simmons has known the ins and outs of the sport for a long time. She is married to David Simmons, who played 13 seasons in the Australian National Basketball League (NBL), earning All-League honors with Melbourne in 1990 and an NBL championship with the Tigers in 1993. He was retired by the Melbourne franchise he played with from 1989-1996. Her husband also played for Newcastle, Sydney and Canberra teams in the NBL and served as interim head coach and assistant for the Hunter Pirates after retiring from the game.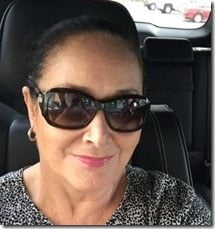 Julie Simmons and her husband have two children, daughter Olivia and son Ben. Julie Simmons is the mother of four other children from a previous relationship, they are Ben's half siblings: Melissa, Emily, Liam and Sean. Her daughter Emily is the wife of NFL player Michael Bush while Julies' son, Liam worked as an assistant coach at Southwest Baptist in Bolivar, Missouri.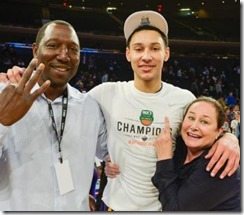 The story goes that Julie Simmons went into contractions during the opening ceremony of the 1996 Olympic Games in Atlanta. She gave birth to Ben (Benny as she calls him) on July 20, 1996.
Julies' son took NCAA basketball by storm, posting averages of 19.9 points, 14.9 rebounds, 6.0 assists, 2.4 steals and 1.6 blocks through the Tigers' first seven games. At just 19, he has already drawn comparisons to some all-time basketball greats.
You can find lovely mama Simmons on Twitter here.