Katie Salzano
Katie Salzano is the girlfriend of former NFL running back Michael Bennett; he played with the Raiders until he retired from the game in 2010. He rushed 3, 703 yards and scored 13 touchdowns.
Charged with nine felonies including burglary, elderly abuse, forgery, and grand theft. Michael forged the names of Katie Salzano's elderly parents to take out $325K in loans.
In November 2015, Michael Bennett forged the signatures of Ms. Salzano's 65-year-old parents and local notary public on two loans totaling $325,000 against the value of their home.
Katie's parents received documents regarding a loan in the mail in September, however, neither of them asked for any loan; they later found out the lock of the room where they keep valuable things had tampered; the only thing missing was the binder containing their real estate and financials docs. They notified the police immediately, who eventually discovered that their signatures had been forged by their son-in-law Michael Bennett.
They detained Bennett on Thursday in Petaluma; when they interviewed him, he admitted to the crime. He is being held in Sonoma County Jail on $1 million bail. This is not the first time he had been in jail. Back in 2012, he spent 15 months behind bars after pleaded guilty of wire fraud. Bennett one of the three NFL players arrested in the Florida fraud in 2012, along Louis Gachelin former Denver Broncos player, former defensive tackle William Joseph.
Now read Katie Salzano's Biography.-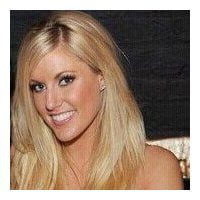 34-year-old Katie Salzano was born Katie Marguerite Salzano on May 3rd, 1981; her parents are Carol Ann and Tino Ferdinand Salzano also proud parents of   Emily (older sister) and Leo (younger brother).
Katie a pharmaceutical saleswoman once worked with Quintiles, graduated in 2004 with a bachelor of science from St. Mary's College of California. Furthermore, Katie Salzano and Bennett welcomed their first child, daughter Kaia Rose was born on March 15, 2015.