Mechalle & Marselles Brown
Mechalle & Marselles Brown are the proud parents of NBA prospect, Jaylen Brown.
At 6-foot-7 and 233 pounds he is among the best athletes to enter the draft in recent memory. Most experts predict him as a top-10 selection.
In his lone season with the Bears, he shot 29.4 percent from three-point range and 65.4 percent from the foul line while committing a team-high 108 fouls. Brown averaged 7.8 points on 10-for-48 shooting over his final five games. With Tyrone Wallace and Jabari Bird sidelined for the first round of the NCAA Tournament, he stumbled through a four-point, seven-turnover nightmare in a loss to Hawaii.
The the Pac-12 Freshman of the Year is certainly different from the rest. He interviewed five well-known agents before deciding to rely on a close circle of advisers in the lead-up to the draft. Said Brown to NBA TV:
"For me, it's all a learning experience. Everything is educational. When I'm going in, I want to understand the politics. I want to understand everything, so I can put myself in a position to be successful."
Brown was selected to play in the 2015 McDonald's All-American Boys Game. On May 1, 2015, Brown committed to play for theGolden Bears at theUniversity of California, Berkeley.
He took a graduate-level course in Cultural Studies of Sport in Education in the fall semester, learned to speak Spanish at a near-fluent level in his year in college, and aims to learn three languages by the age of 25. Brown who served as captain of his middle school chess team, is described as one of the most intellectual kids in the draft. He has interned at Base Venture, a California-based venture capital firm.
His mother calls him "Old Man," due to his tendency to act like, an old man. Below Jaylen's mother and his brother Quenton.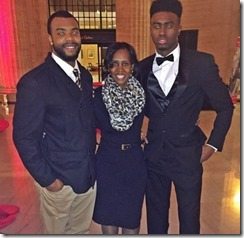 Pin
Mechalle & Marselles Brown's oldest, 24-year-old Quenton Brown is a college football player. Quenton is defensive lineman at the University of West Georgia. Last year, Quenton played in all 14 games for the Wolves.
According to a LinkedIn profile, Mechalle Brown is a Claims Specialist working at Zurich Insurance and currently resides in Lilburn, Georgia. Not much info is available about his father, but there is a 48-year-old former Boxer with the same name, you can check out here and is also found as Marcellus Brown.
Jaylen's parents do not live together with his mother living in suburban Atlanta and his father in Hawaii.
You can check out Jaylen Brown on Twitter here.