Mecole Hardman is the punt receiver and wide receiver currently playing for the Kansas City Chiefs. Before the NFL, Hardman played college football for the Georgia Bulldogs at the University of Georgia with Jake Fromm, who currently plays for the New York Giants.
Mecole Hardman Parents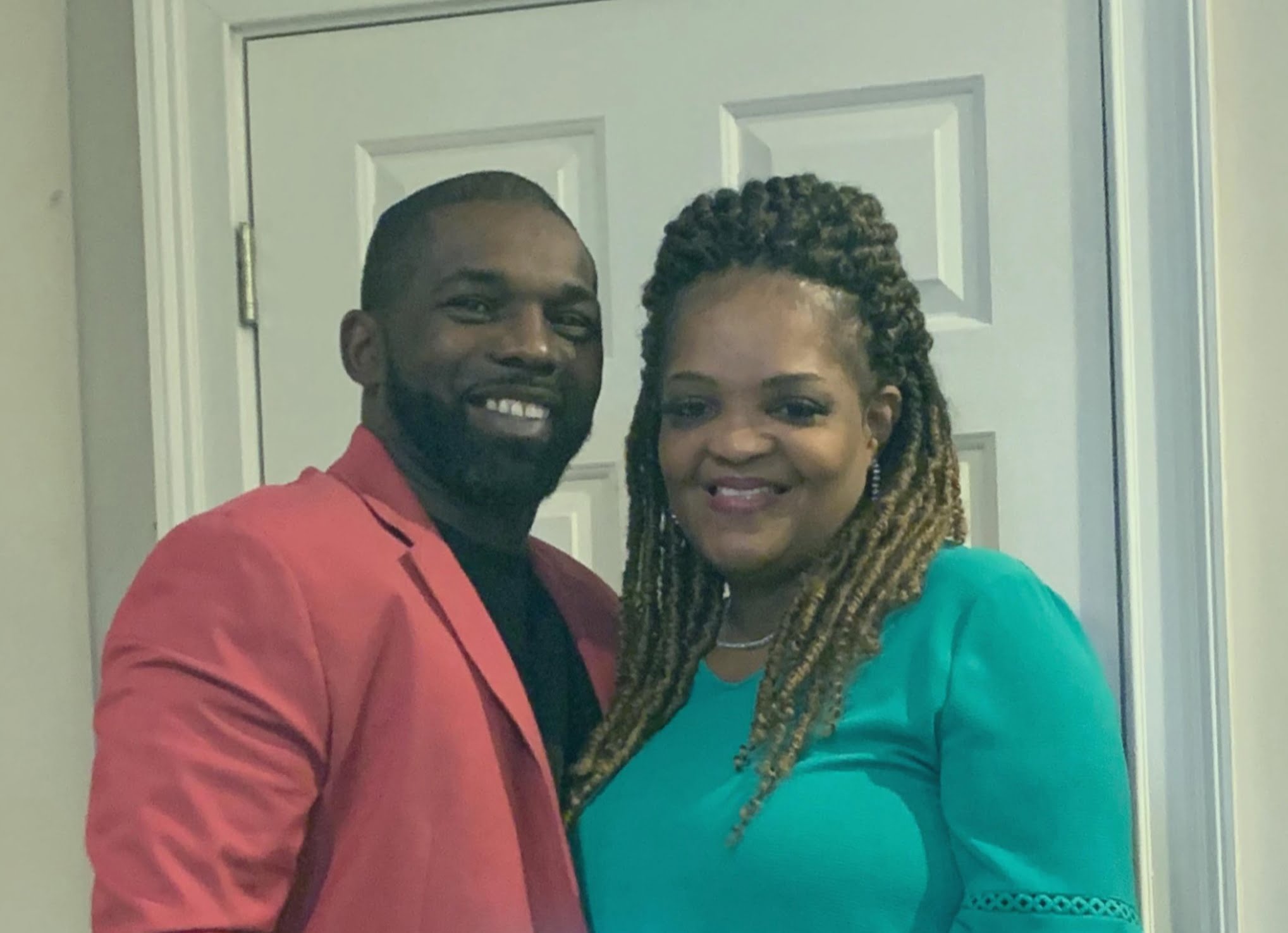 Mecole was born Carey Mecole Hardman Jr. on March 12, 1998, in Bowman, Georgia. He is the son of Mecole Hardman Sr. and
Mecole Hardman Sr.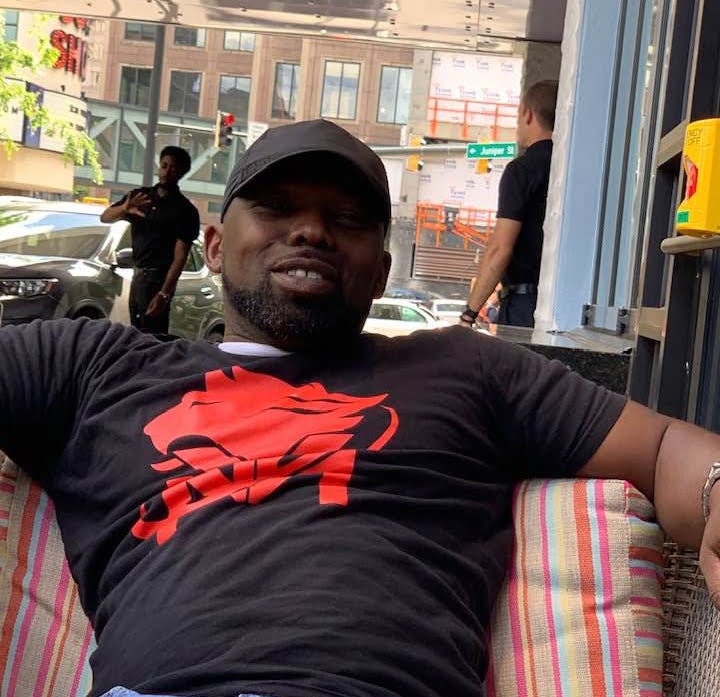 Mecole's dad, Carey Mecole Hardman was born on July 14, 1973. He is one of the sons born to Mae Hardman. Mecole Hardman Sr. played football at Elbert County High School from 1989 to 1992; in 1990 and 1991, Mr. Hardman earned an honorable mention spot on the Atlanta Journal-Constitution's All-State team. He later played briefly at Savannah State on a football scholarship, before joining the Navy.
Latrivia Danyell Hardman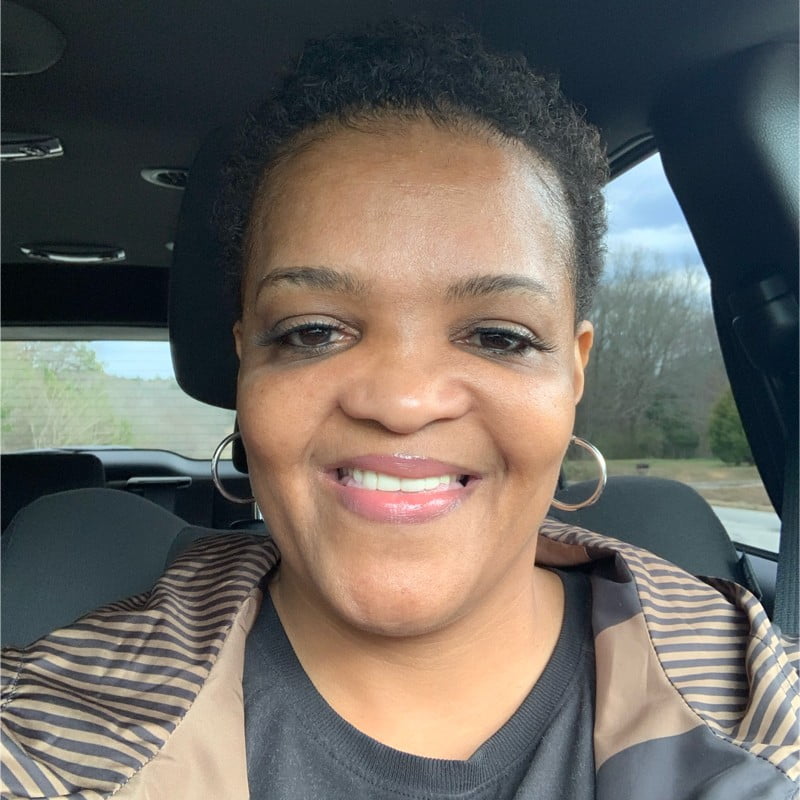 Mecole's momma Latrivia Danyell Hardman was born on August 27, 1973. She graduated in 2016 with an Associate's degree in billing from UMA. Latrivia Hardman an independent billing specialist since January 2021, previously worked as a paraprofessional at Elbert County BOE, she also was a medical biller at Ancora Pain Recovery from February 2017 to January 2021. Around 2013 or 2014, doctors found a benign tumor the size of an apple in Mrs. Hardman's brain.
Mecole who was still in high school, became close to his mom, he drove her everywhere, she got well just in time for him to go to the University of Georgia
Latrivia Danyell and her husband Mecole got married on May 10, 2003. They live in Georgia. Mecole gifted his parents with a house and car.
"It's a good feeling," Hardman said in a video posted on his Twitter account last week. "Get some furniture, get her moved in here."
"That's just something that he always wanted to do as a kid," Danyell said. "To show his mom and dad that he appreciates everything they've done for him."
I been dreaming of buying my mama a house since I was 8 and now to finally do it words can't explain how happy i am 🙏🏾 I love you ma x1000000000❤️ It's my turn to take care of you now 🙏🏾 pic.twitter.com/nHpwQbMGvB

— Mecole Hardman Jr. (@MecoleHardman4) July 18, 2019
Mecole Hardman Siblings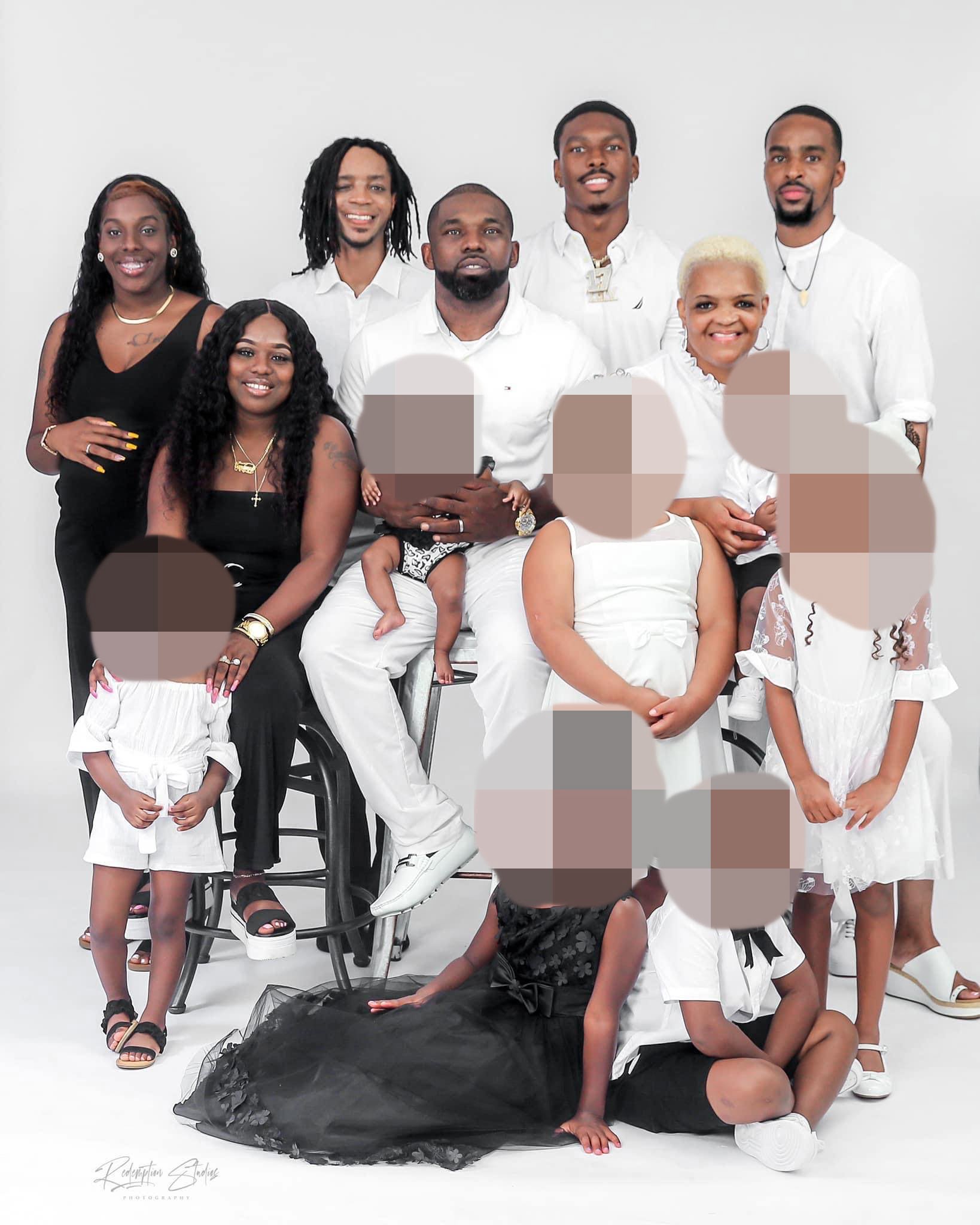 Mecole Hardman has three siblings, his sisters Constance (sorry couldn't find the name of Mecole's other sister)from his dad's previous relationship, half-brothers Eugene Blakely who is a spa receptionist at ARIA Resort & Casino in Las Vegas, and Valdon Cooper who played cornerback at Southern Georgia and Illinois.
Mecole Hardman College
Mecole the recipient of the James G. Minter, Michael J. Faherty, Ken, and Jody Jackson Family  Football Scholarships graduated from Elbert County High School in 2016. He later played football at the University of Georgia.
His freshman year, Mecole appeared in 11 games, special tackles in four. During his sophomore year, he had 25 receptions for 418yards, four touchdowns, plus eight carries for 61 rushing yards and two rushing touchdowns in 15 games.
Hardman had 34 receptions for 532 yards, seven touchdowns, 5 carries for 36 rushing yards in 14 games his junior year.  On January 4, 2019, he announced he would forgo his senior year at the University of Georgia and enter the draft.
Mecole Hardman NFL Career
On April 26, 2019, the Kansas City Chiefs selected Mecole Hardman in the second round, 56th overall during the 2019 NFL draft.
On May 6, 2019, he signed his rookie contract with the Chiefs.
He made his debut and his first touchdown on September 15, 2019, Week 2 against the Oakland Raiders.
He tested positive for COVID and was placed on the reserve/COVID-19 on November 11, 2020, he was activated on November 21.
Mecole Hardman Stats

Mecole Hardman Net Worth
As of 2022, Mecole Hardman's net worth has been estimated at $3 million. In addition to his NFL salary, Mecole earns from his endorsement deals with State Farm and The Rocket League.
Mecole Hardman Contract & Salary
On May 6, 2019, Mecole Hardman and the chiefs agreed to a  four-year contract worth $4,995,052; the deal included a signing bonus of $1,652,764, guaranteed money $2,374,812 and an annual salary of $1,248,763.
Mecole Hardman Jersey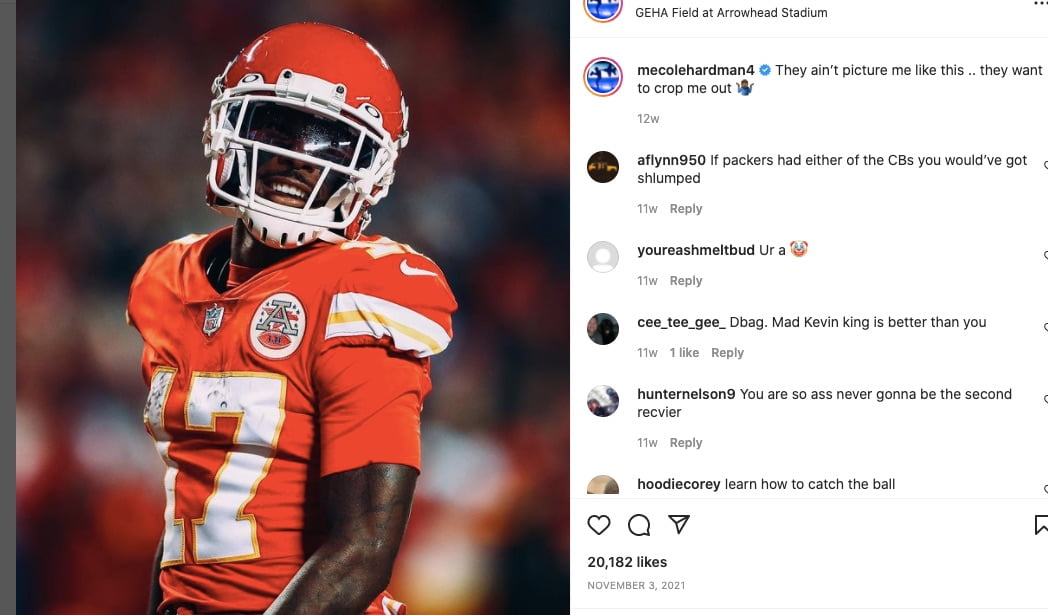 Kansas City Chiefs fans looking for Mecole Hardman's #17  jersey, check it out at the NFL Shop,  Chiefs Full Apparel, Fanatics, and Amazon.
Mecole Hardman Merch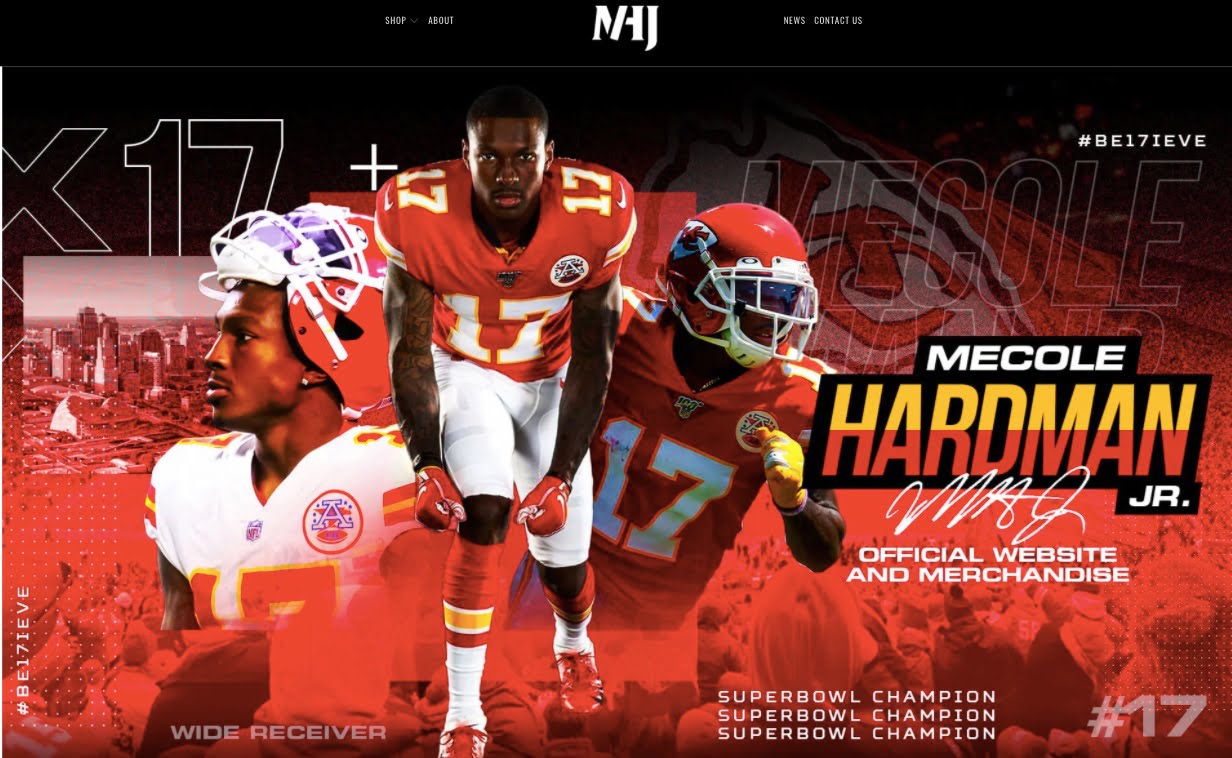 Mecole Hardman known for his nickname Jet, has a variety of merchandise for sale on his website. Cool shirts, sweet hoodies for men, women, and kids. Plus signature Mecole jumpsuits, jeggings sets and so much more.
Mecole Hardman Girlfriend
Cheyenne Monet Brown
Meet the lovely Cheyenne Monet aka Cheyenne Brown; she is the beautiful ex-girlfriend of NFL player Mecole Hardman, the 5'10" wide receiver for the Kansas City Chiefs.
Hardman played high school football at Elbert County High and subsequently with the Georgia Bulldogs at the University of Georgia.
The Kansas City Chiefs selected Mecole in the second round (56th overall) of the 2019 NFL Draft; on that special day, Hardman was in the company of his friends, family, and girlfriend Cheyenne Monet.
Pretty Cheyenne was Born Cheyenne Monet Brown, she met Hardman while they both attended the University of Georgia where she graduated with a Bachelor of Arts in Journalism in 2019.
She currently works as a digital editor for ESPN; before that, Cheyenne was an intern with C-SPAN and Cal Ripken Collegiate Baseball League.
Back in 2015, Ms. Brown was an associate producer for UGA Elite and an intern for PlayOn! Sports and Ryan Seacrest Productions.
Cheyenne and Mecole are no longer together, but they are still friends.
Mecole Hardman Reginae Carter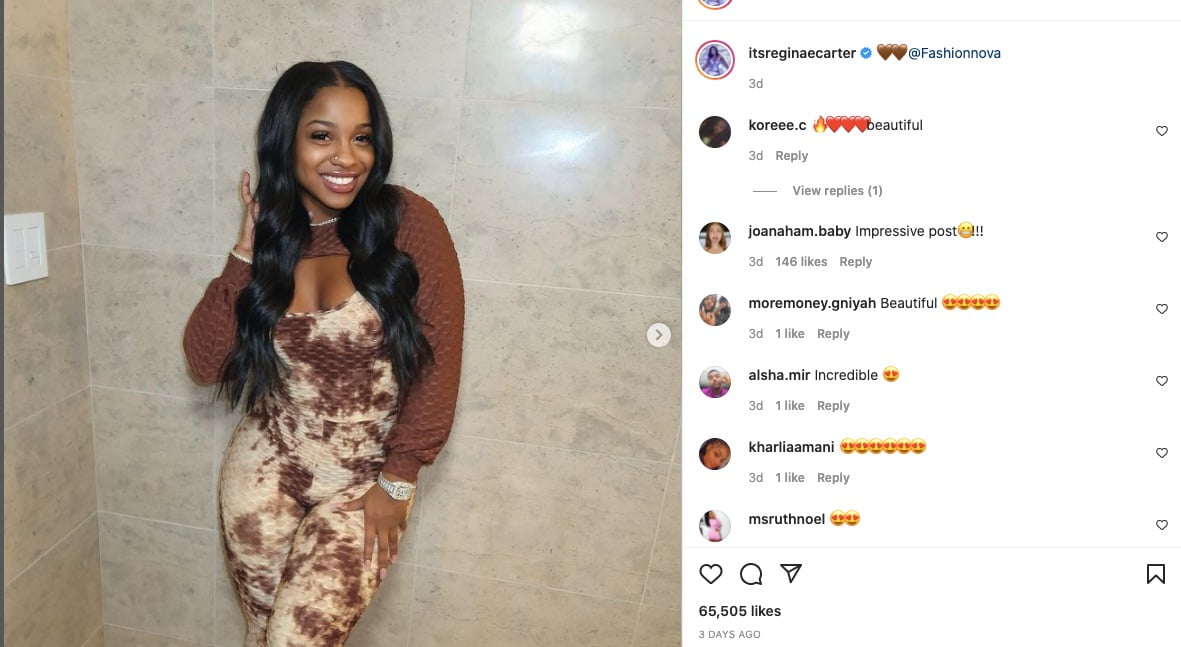 After Mecole Hardman and Cheyenne broke up rumors about him dating Reginae Carter started. Reginae Carter was born November 29, 1998, in New Orleans is one of the children born to Dwayne Michael Carter and Antonia Toya Johnson.
Dwayne Carter is a famous rapper we all know as Lil Wayne; Toya Johnson, Reginae's momma, a singer, and former member of the R&B group Xscape along with Kandi Burruss, Tameka Cottle, and Tameka Tiny Harris (T.I. Wife).
Toya and Lil Wayne met when she was 12, she was just 14 when she found out she was pregnant, 15 when Reginae was born; they eventually got married on February 14, 2004, sadly they split up in January 2006, and subsequently decided to divorce.
Toya later married Memphitz Wright in 2011, divorced in 2016, and is now dating Red Rushing, father of her daughter Reigh born on February 8, 2018.
Lil Wayne later dated singer Nivea from 2002 to 2004 and later from 2009 to 2011; Lauren London from 2007 to 2009, La'Tecia Thomas from 2019 to 2020 and is now dating Denise Bidot.
From Lil Wayne's side, Reginae Carter has three siblings, Dwayne III,  born on October 22, 2008, from his dad's relationship with Sarah Vivan a radio broadcaster, Cameron born on September 9, 2009, from his relationship with actress Lauren London, and Neal born on  November 30, 2009, from his relationship with Nivea.
Reginae Carter now an actress, appeared on the video documentary The Carter in 2009, Growing Up Hip Hop: Atlanta, The Real, Pride & Prejudice: Atlanta, Dear Santa I Need a Date, Boxed in 2021, and Social Society along with Angela Simmons.
It is unclear if Reginae and Mecole Hardman really dated, if so they are no longer dating; she YFN Lucci and is nowadays allegedly dating Lil Tjay.
Mecole Hardman New Girlfriend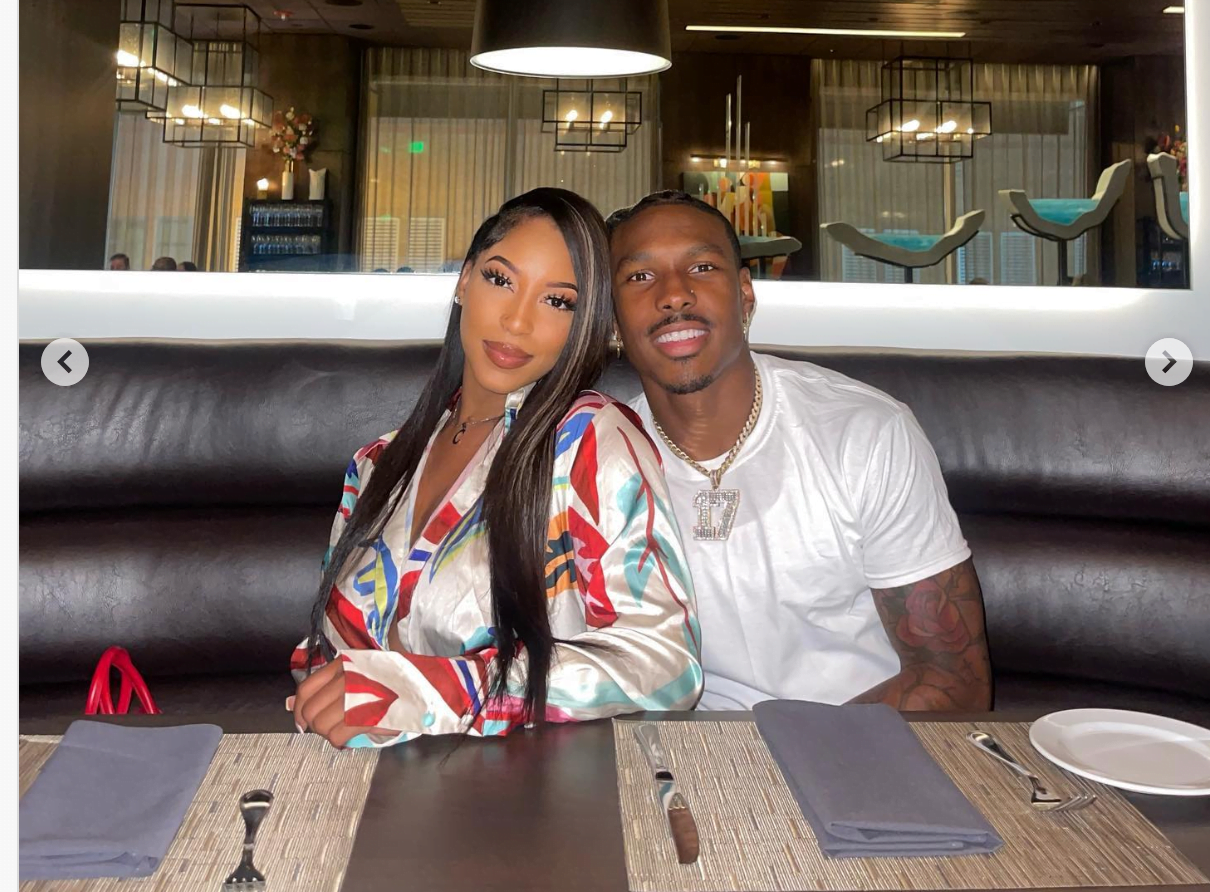 The handsome, athletic, and talented Kansas City Chiefs wide receiver Mecole Hardman doesn't have a girlfriend at this moment; but he is surely looking for one, just take a look at the message he tweeted on January 25, 2021…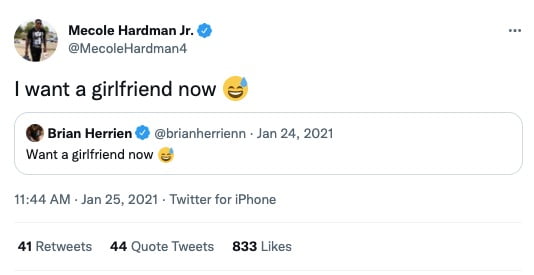 Is anyone interested??
Chariah Gordon
Yes, the lovely Chariah Gordon was indeed very interested! this stunning gal is not only Mecole Hardman's current girlfriend but is also expecting his first child!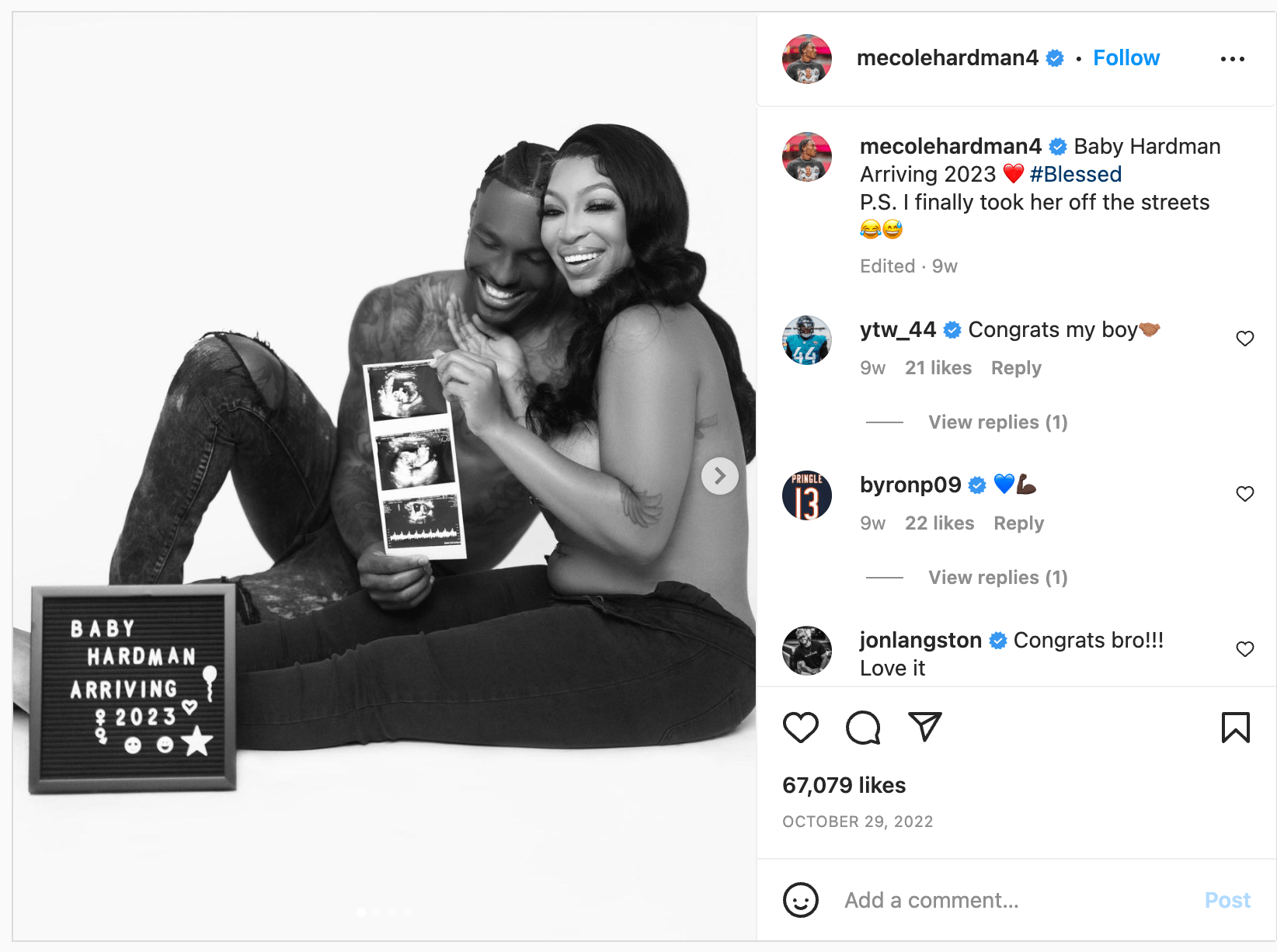 Chariah Gordon was born in Chicago, Illinois on March 4, 1995. She attended Thornton Township High School in Harvey. Ms. Gordon is a model, actress, and singer known for her 2016 single Drowin'.
Chariah Gordon is the owner of her clothing line, The GLO Collection. You can find Chariah Gordon on Instagram where she has over 189K followers.