Nancy Rodriguez
Nancy Rodriguez, is the blonde NFL Wag and the girlfriend of NFL player Randy Gregory. He is the defensive end player for the Dallas Cowboys who also played college football at the University of Nebraska.
Nancy's NFL beau Randy Gregory was born November 23, 1992 in Jacksonville, Florida. He graduated from Hamilton Southeastern high School in indiana.
He attended Arizona Western College, and the University of Nebraska, which was his second college choice, being Purdue his top choice, but sadly  he was found academically ineligible to attend at Purdue.
Gregory didn't graduate, he forgo his senior year and entered the draft. He was selected in the second round (60th overall pick) by the Dallas Cowboys in the 2015 NFL Draft.
Had great start with the Cowboys, but early in 2016, was suspended for violating the league's drug policy.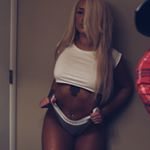 Randy Gregory is dating the lovely Nancy Rodriguez, either as a blonde or a brunette she looks amazing! Nancy, 24, from Miami, Florida will give birth to Gregory's first child pretty soon.
You can find her on Twitter here