Oh Oh! it seems more problems are coming on the way for the Odom marriage! A second girl named Polina Polonsky allegedly was involved in a romantic relationship with the NBA baller Lamar Odom! a.k.a Khloe Kardashian's hubby!
According to publications the 33-year-old who is a lawyer in Sherman Oaks, Calif., told Star magazine just last week that she was intimate with Odom, for get this! Six weeks earlier this summer. She even passed a polygraph test backing her claims. She told Star mag:
"I was under the impression that he had left Khloe and that's why he was living at the Roosevelt," "He acted completely available and we definitely had mutual attraction."
Doesn't she sound like she is feeling a little betrayed! What about Khloe! And what is that about "being under the impression" how about trying asking the question directly right!
"After we had , Lamar stayed the night with me; the next day we went back to the Roosevelt. I stayed there with him for the next couple of nights."
According to attorneyfee.com Polonsky attended the University of Michigan in Ann Arbor, MI gaining her B.A, later got her JD from Pepperdine University School of Law in Malibu C,A. She was admitted to the State bar of California on December 1st, 2010.
Polina is part of the team of the attorneys with Pensanti & Associates practice in Sherman Oaks. Talking about coincidences according to her LinkedIn profile she happens to be an attorney specializing in sports in Los Angeles area.
Who do you think Polina looks like?!!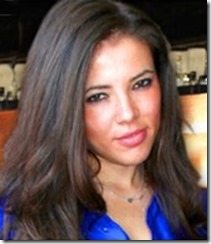 The three year experienced law woman is daughter of Eugene Polonsky and Nataliya Polonskaya is saying she is actually afraid for her family and herself since On July 13, she claims, she had a not so nice run-in with Kardashian, who came to the room that Polonsky and Odom were sharing at an inn in Los Angeles!
"I told her to leave, but she refused. I called the front desk and asked them to call the police because I was so scared, but no one ever came," "While Khloe was screaming outside the door, Lamar was calling people to come and get her. She was out of control. The whole scene was so frightening — and I couldn't understand why we were hiding, because he made it clear that he didn't want to be with her!"
The scandal according to the Hollywood lawyer, Polina has escalated to the point that she is worried for her family's well being, saying that Khloe
"investigated my loved ones, and she personally tried to attack me. "I can't even go home because I'm scared that something bad will happen."
What do you think, is she seeking her five minutes like Odom's first mistress Jennifer Richardson?
You can find her on instagram here.