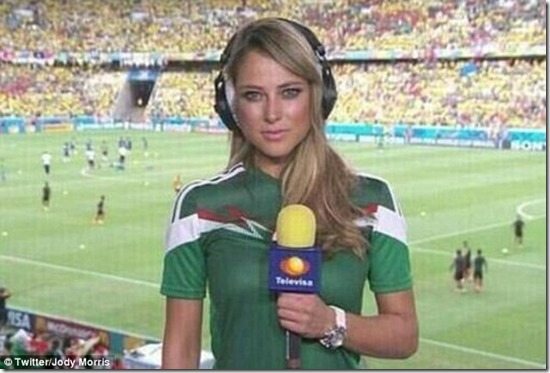 Tired of listening your favorite team is losing? Imagine that being told by an old, bold, boring dude!
Ever since the World Cup opening the world seems to enjoy the height of glamour when it comes to their World Cup coverage.
Many are focusing not only in the game but also on the hot female reporters giving great coverage, so we thought you might like to know who they are!
Here our top-five favorites.
#1. Vanessa Huppenkothen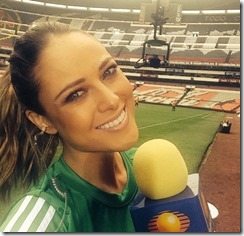 The gorgeous Mexican TV Reporter has been stealing 2014 World Cup Spotlight! The beautiful 29-year-old "Televisa" reporter, who is in Brazil covering El Tri in the World Cup has become a popular topic on Twitter and other social media platforms during World Cup action so far. Mexico has gotten off to a fairly good start Vanessa Huppenkothen has been on the sidelines to cover all of the action.
#2. Ines Sainz Gallo
Another Mexican TV reporter Ines Sainz Gallo has been giving us all the good stuff from the World Cup. The 35-year-old TV personality, sports reporter and model was in Fortaleza for Brazil's game with Mexico on Tuesday night.
#3. Roberta Setimi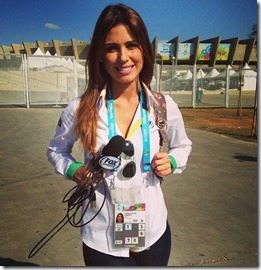 Viewers are also enjoying the coverage from Brazilian Roberta Setimi. She holds an MA in Digital Media from the University of London and is currently part of the cast of Fox Sports Brazil, she is a production coordinator and host of the show The Last Word, alongside Renato Mauricio Prado and Victorino to Chermont.
#4. Kay Murray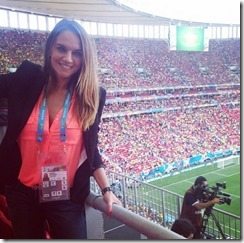 The glamorous: Kay Murray is also covering the greatest show on earth in Brazil for beIN Sports
Murray contributes to beINSport USA, as well as Astro SuperSport, Fox Soccer, TalkSPORT & was co-host of the FIFA Ballon D'Or 2011 & 2012. Former Real Madrid TV host.
#5. Sara Carbonero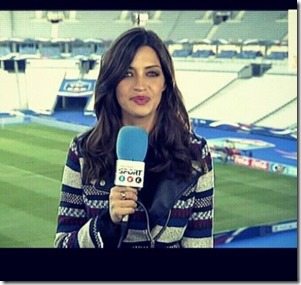 Last but not least, Spanish sports reporter and TV presenter Sara Carbonero, the gorgeous girlfriend of Spanish goalkeeper Iker Casillas. Described as a the Queen of Wags, the 30-year-old is a TV reporter for Spanish crew Mediaset.
These women really ensure football is the most beautiful game in the world! What do you think of our broadcaster ladies?