Kayla Nicole
Kayla Nicole is the lady love currently dating NFL player, Travis Kelce, the tight end for the Kansas City Chiefs. Her man who appeared in his own reality show looking for love "Catching Kelce" –previously dated its winner, Maya Benberry. Maya and Travis have been together on and off since 2017.
Travis Kelce Parents
6'5 Travis Kelce born on October 5, 1989, in Westlake, Ohio is one of two sons born to Donna and Edward "Ed" Kelce, also proud parents to Travis' older brother Jason Kelce, the 6'3 center NFL player currently playing for the Philadelphia Eagles.
Donna Kelce
Travis' loving mother Donna Kelce was born Donna Rae Blalock on October 9, 1952. Donna Kelce, one of two children born to Mary and Don Blalock graduated from Orange High School; she later studied at Baldwin Wallace University and studied communications at Ohio University.
Donna Kelce worked at KeyBank in Cleveland; in 2010 worked at SVP Truist, she retired in 2021. Mrs. Kelce lives in Orlando, Florida.
Ed Kelce
Travis' dad Ed Kelcewas born Edward M. Kelce on February 22, 1951, in Cleveland, Ohio. He graduated from St. Joseph High School in Cleveland and currently resides in Haverford, Pennsylvania.
Travis Kelce Brother
Travis Kelce's Super Bowl Champion brother Jason Daniel Kelce born on November 5, 1987, in Westlake, Ohio, played college football at Cincinnati before the Philadelphia Eagles selected him in the 6th round (191st overall) during the 2011 NFL draft.
Jason a center was selected Built Ford Tough Offensive Line of the Year in 2017, five-time Pro Bowler, four-time First-Team All-Pro, and Super Bowl LII Champion. Jason is married to Kylie McDevitt Kelce, mother of their two adorable ladies, Wyatt Elizabeth Kelce born on October 2, 2019, and Elliotte Ray Kelce born in December 2020.
Travis Kelce College
Like his big brother Jason, Travis attended the University of Cincinnati, where he redshirted his freshman year; recorded eight receptions for 47 yards, two touchdowns in 11 games his sophomore year.
He received a one-year suspension for failing a drug test during the 2010 season; in his junior year, Kelce completed 13 receptions for 150 yards, two touchdowns in 11 games. His last year with the Bearcats he completed 45 receptions for 722 yards, eight touchdowns in 13 games.
Travis Kelce NFL
On April 26, 2013, The Kansas City Chiefs selected Travis Kelce in the 3rd round (63rd overall) in the 2013 NFL draft.
On June 6, 2013, Kelce signed his rookie contract with the Chiefs.
On September 15, 2013, Travis Kelce made his NFL debut against the Dallas Cowboys.
On October 12, 2013, he underwent knee surgery, therefore placed on injured reserve.
On September 21, 2014, Kelce recorded his first touchdown against the Miami Dolphins.
He was fined $11, 025 for unsportsmanlike conduct on November 30, 2014.
In December 2015, it was announced he was selected for his first Pro-Bowl.
He signed a contract extension with the Kansas City Chiefs on January 29, 2016.
On November 11, 2016, he was fined $24,309 for unsportsmanlike conduct against the Jacksonville Jaguars.
On December 20, 2016, he was named a starter for his second Pro-Bowl and First-team All-Pro.
On December 19, 2017, Kelce was named a starter for the Pro Bowl.
On January 4, 2019, Kelce was named his fourth 2018 Pro Bowl and was first-team All-Pro.
On February 2, 2020, Kelce and the Chiefs won Super Bowl LIV, against the San Francisco 49ers 31-20.
On December 20, 2021, he was placed on the Reserve/COVID-19 list.
On December 22, 2021, Kelce was named AFC Offensive Player of the Week.
On January 8, 2022, he was named the fastest tight end in NFL history to reach 9,000 career yards in just 127 games.
On January 14, 2022, the Associated Press named Kelce 2nd team All-Pro.
Travis Kelce NFL Stats
Travis Kelce Net Worth
As of January 2022, Travis Kelce's net worth has been estimated at $20 million. In addition to his salary from the NFL, Kelce earns nearly $4 million from endorsement deals.
Travis Kelce founded his sportswear brand Tru Kolors Brand in 2019.
"I like to show off who I am through what I wear," Travis says. "I think colors are a unique way to connect people and an amazing way to express yourself. We're all in this together — be you, stay true. And always rep your Tru Kolors."
Travis Kelce Endorsements
Kelce's five-year contract is worth $46,842,000, the deal included a signing bonus of $10,000,000, $20,017,000 guaranteed and an annual salary of $9,368,400.
Travis Kelce has endorsements deals with Nike, Old Spice, Hilo Gummies, T-Mobile, Lowe's, and Players TV, 's Sporting Goods, and Tide.
Travis Kelce Contract & Salary
Kelce signed his four-year, $3.12 million contract with Kansas; the deal included a signing bonus of $703,304.
Travis Kelce Jersey
Kansas City Chiefs fans looking for Travis Kelce #87 jersey, you can buy it at Dicks's Sporting Goods, the NFL Shop, Chiefs Shops, Amazon, and Fanatics.
Travis Kelce Tru Kolors
We can't tell you enough how cool Travis Kelce's merchandise is, Tru Kolors, Kelce's sportswear brand has everything you need.
"I like to show off who I am through what I wear," Travis says. "I think colors are a unique way to connect people and an amazing way to express yourself. We're all in this together — be you, stay true. And always rep your Tru Kolors."
Travis Kelce Girlfriend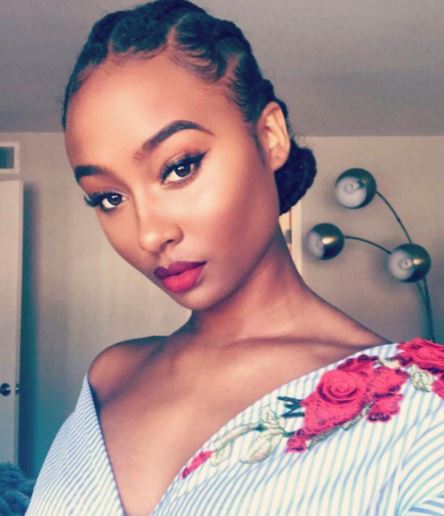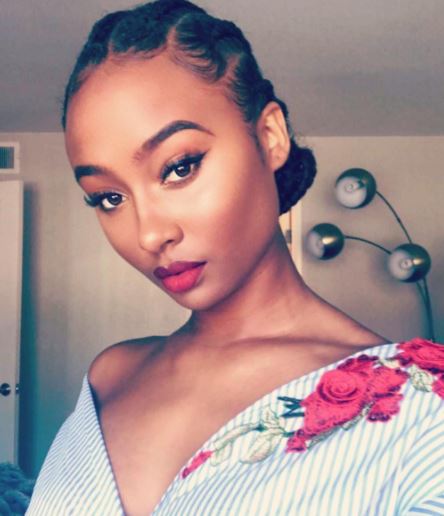 Kayla and the Kansas City Chiefs Tight End began dating earlier in 2017 and things between them seem to go super-fast and super awesome. The two were first linked together back in May, just five months after he and Benberry ended their relationship.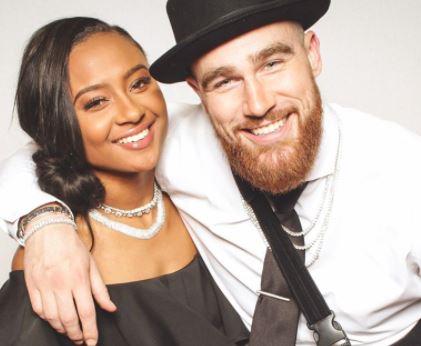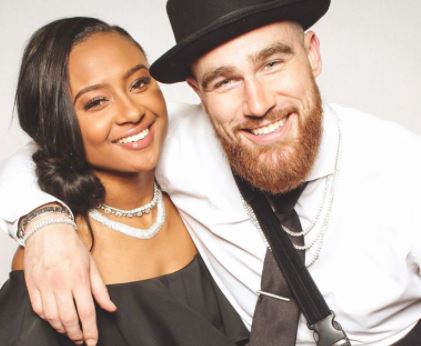 He made things official with Kayla Nicole after the two attended the wedding of teammate, Jeremy Maclin. So just who is, the new lady?
Kayla Nicole is a lovely gal currently a resident of sunny Los Angeles, she has two younger sisters. She has experience working in media. YouTube accounts show the stunning gal hosting events, working the red carpet, interviewing celebs, and even attending New York Fashion Week for her own vertical, Kayla Nicole TV, and for fashion website Fashion Reverie.
She's also worked with popular rap/hip-hop website HotNewHipHop as the "resident tastemaker"/gal on the street. Aside from her media work, she also has a background in modeling.
But despite what you may think, Kayla isn't just a pretty face with a popular Instagram account. The gal happens to have an undergraduate degree from Pepperdine University in Malibu, Calif.
Kayla Nicole
Pretty Kayla Nicole was born Kayla Brown Curry on November 2, 1991, in Los Angeles, California. She is one of the children born to Robin Curry and Roosevelt Brown.
Kayla has four siblings, from her momma's second marriage to Gary Curry, Kayla has three sisters, Jayda, Ayva Curry, and Hayda.
Her sister Jayda Curry is a guard for the Golden Bears Women's Basketball team at the University of California. She previously played at Centennial High School.
Kayla Nicole graduated from Pepperdine University with a Bachelor's in Broadcast Journalism. Kayla was the 3rd runner-up of Miss Malibu and 2nd runner-up of Miss Southern Coast Regional, Top 10 Miss CA USA in 2012; the following year, finished Top 20 Miss CA and 1st runner-up of Miss Malibu 2013.
Kayla Nicole the founder of the health and wellness website Strong , has experience with journalism, on-air host, social media personality, and model.
Furthermore, you can find her on Instagram here.
Related Story: Mecole Hardman Parents, Career and Girlfriend