So the word is out there, Victor Cruz has a number of women to his disposition –besides his fiancée, Elaina Watley!
Recent reports say the 28-year-old NFL player confirmed to one of his women his girlfriend sent a a group text to all or some of the other hook ups he's been cheating with!
Elaina Watley might have felt with a right, after all she is the mother of Victor's daughter, Kennedy. The long time couple became parents in 2012.
Media Take Out, got hold of the alleged text, which is addressed to the unidentified women. Take a peek below!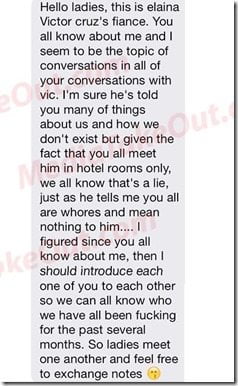 According to US Weekly one of his mistresses –who lives in Texas –did not get the group text but saw it online and asked Cruz about it. When the woman asked him what it was about; he said, 'Exactly what it reads."
According to the mistress, Victor Cruz told her he and his fiancé were broken up and are just keeping up appearances, adding: "I never believed him."
Victor Cruz is currently a Wide Receiver for the New York Giants.
Cruz was born November 11, 1986, in Paterson, New Jersey. He was a standout high school athlete, Cruz eventually starred for the University of Massachusetts. After going undrafted in 2010, Cruz signed with the New York Giants. 2011 –his first full year for the team –was a great year for Cruz who helped lead the club to victory in Super Bowl XLVI.
Future was looking good for Cruz but in June 2013, Cruz, who was fresh off his first Pro Bowl season, secured a five-year, $43 million contract extension with the Giants. However, he soon was hit with new challenges. His career has been plagued with injuries.
Cruz's 2013 season ended after he sustained a sprained left knee and a concussion against the Seattle Seahawks in December. The following year, he ruptured his right knee in a loss to the Dallas Cowboys in October, curbing another promising season after just six games.
How do you think 2015 is looking for him? Will his mistresses keep seeing him despite the text? Who are they? Will they come forward?