McKayla Maroney
McKayla Maroney is one of the hottest gymnasts around, she's a badass at her thing and she's also easy on the eye; take a closer peek at the gorgeous 21-year-old.
McKayla Maroney is probably self-assured when she's bouncing and tumbling on the mat, but a recent video also shows she doesn't lack confidence at all in the real world.
The brunette showed a new side of her toned physique and wasn't shy to admit she posted the sizzling footage herself, in case anyone thought she had been hacked.
McKayla who shared the hot moment of her booty in a thong while wagging to the camera –received over 7K comments and the video has been viewed over 800K times.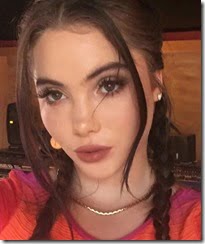 Born December 9, 1995 as McKayla Rose Maroney, the Long Beach, California native is the daughter of Mike and Erin. She has two siblings, Tarynn and Kav. Her father was quarterback for Purdue.
McKayla Maroney is best known for winning Olympic gold with Team USA in 2012. She also landed the silver medal in the vault finals –which prompted a look of disappointment for which she is now well known after it went viral.
According to her profile on the USA gymnastics website, Maroney began her training in 1997 after her mom thought it would be a good idea since she was full of energy growing up. Due to her intense training, she was homeschooled. Aside from gymnastics, McKayla used to be into soccer, ice skating and tennis.
Her highlights in gymnastics include, 2011, World Championships team and vault gold medalist, 2012 Olympic team gold medalist and vault silver medalist. In 2013 she became the vault and floor exercise gold medalist and the World Championships vault gold medalist.
The Olympic gold & silver medalist also had to hit back at critics last year after she was accused of having plastic surgery.
Truth is she doesn't look anything like she did on her days as a competitor.
She announced her retirement from gymnastics last summer, revealing her aspirations to become an entertainer.
Maroney is apparently a single gal, no sign of a current love interest on social media. However, we predict if she keeps releasing more hot videos, probable candidates will begin to surface.
Find her on Instagram here.