Pat Connaughton
Pat Connaughton is the outstanding 6'5″ shooting guard for the Milwaukee Bucks; he previously played for the Portland Trail Blazers and college basketball at Notre Dame prior to declaring to the draft, where Portland selected him in the second round (41st overall) in the 2015 NBA Draft.
Back in college, Notre Dame's Head Coach Mike Brey said this about him
"The thing about Pat is, everyone told him leading up the baseball draft, do not say you're coming back to play basketball, it will hurt your draft status. And his dad and him say we're not going to 'B.S.' about that. We're coming back, we're going to finish this thing, Pat loves to play basketball, and he's intrigued about what the NBA thinks about him"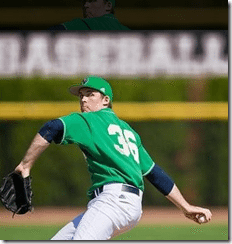 Pin
That's right Pat is in love with two sports– baseball and basketball. He was picked in the 4th round draft by the Baltimore Orioles, but he says he had unfinished business to tend to at Notre Dame..
But Connaughton who is very close to his mother and father is a very grounded young man; he is all about family, his nieces and he even has a grandson!
Pat is certainly a good looking young fella with a ton of money for anybody his age, that makes him very attractive to the ladies of course but he seems to enjoy only their friendships for the moment.
Everyone who knows him says he is just wired differently, does that mean not having a girl? Perhaps with the way he is, always thinking about the future, Pat is just not down for the love game as of right now.
You can find him on Instagram here.