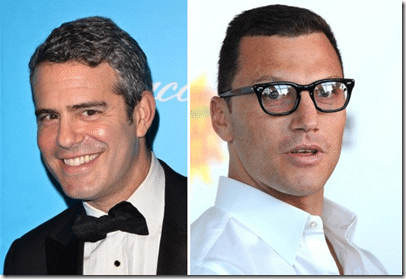 Online rumors have gone wild at the idea of former NHL hockey player Sean Avery and Bravo's host of "Watch What Happens Live" Andy Cohen could be engaged!!!
First of all is Sean Avery gay? The retired ice man who was known for his playing style and controversial behavior both on and off the ice and who has publicly supported the gay community was in relationships with both actress Elisha Cuthbert and model Rachel Hunter, so what happened?
We know he has gone soft from hot, , macho athlete to advertiser dude. His work in the fashion industry as a male model and everlasting eclectic taste has shown but to go from that to be full declared gay man?? The rumor surfaced earlier this week after pictures of the two of them were posted, allegedly vacationing together and having the time of their lives! The two have been friends for a few years now but could the friendship have turned into something more?
According to Andy's dad NOT! Luis Cohen said
"That is not accurate information,"
"He is not engaged."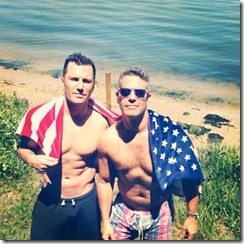 According to the gossip blog The Fame Driven; they were contacted by a spy who told them about the gay relationship, the source said the T.V personality and retired hockey player have been dating secretly for close to two years! Not only that but
Andy desperately wants to take their relationship public because all his friends are married or in a long term relationship (Kelly Ripa & Mark Consuelos, Anderson Cooper & Benjamin Maisani) and he's tired of not being in a committed long term relationship.
If this were to be true, they have been very discrete about it but still go everywhere together, when vacationing the source says they share the same room and during labor day weekend the two were spotted in the Southampton's together.
So Sean probably dated to cover up his true sexuality, do you think his former girls knew about it?? How about his NHL teammates? The alleged couple are 12 years apart, Andy is 45 and Sean is 33 years-old.
You can follow Sean on twitter here and instagram here.