Usain Bolt's mistress
Sprint King, Usain Bolt sure wanted to celebrate his 30th birthday in style following his success in Rio, and oh boy, did he do so! The sprinter and his relationship with long time girlfriend, Kasi Bennett could be in jeopardy following a new series of controversial snaps!
If Kasi thought about forgiving him for allegedly spending the night with a 20-year-old Brazilian named Jady Duarte, now things could get even more complicated for Bolt, who now appears to have kissed yet another woman while out clubbing!
New photos show Usain Bolt and a mystery brunette passionately kissing. The unnamed woman is seen wearing a lanyard with Olympic branding, in the VIP area at the club in the Barra de Tijuca suburb of Rio.
Let's review the athlete's night for a sec. During his evening out, Bolt was pictured and videotaped tweaking enthusiastically with a young woman. The Jamaican hero stood on stage in full view of the crowd while he also played hip hop hits before retiring to the VIP area.












As a second act, we'll say he was then pictured with our woman of interest, the one with the Olympic branding and her tongue inside of Bolt's throat. They were caught in an intense make up session in the VIP area at the venue. Some sites say, Bolt pulled her in for a late-night PDA.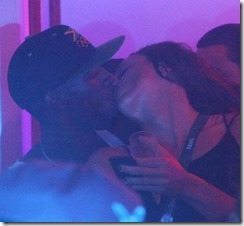 Pin
Hours later, and as his third and final act; Bolt ended in bed with woman number three, Jady Duarte. Jady has been revealed as the widow of a dangerous Brazilian drug lord. She shared the photos of her and Usain Bolt in bed trough whatsapp and from there the images were leaked to media. She has since gone on to say she is ashamed for the whole thing, admitting she did not know who he was.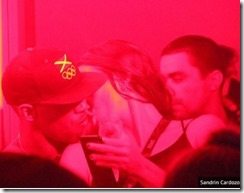 Pin
It is a given, women will do anything to get close to famous sports stars. And Usain Bolt, wrote himself into the history books by winning the triple-triple in Rio. He consolidated himself as one of the greatest athletes of all time. He claimed the gold in the 100 meters, the 200 meters and the 4×100-meter relay in 2008 in Beijing and 2012 in London.
Did the Jamaican hero screwed things with his long time lady? Any thoughts?