Katarzyna Nawałka
Katarzyna Nawałka is the lovely soccer coach wife of Adam Nawałka. Her husband is a retired Polish football player and current manager of the Poland national football team.
Adam Nawałka was born on October 23, 1957 in Krakow. His father, also a player with the same name, played for the local team Orlęta [Eaglets] Rudawa. Nawałka began his career in 1969 with Wisla Kraków. His debut in the 'ekstraklasa' was on 21 May 1975. He played 190 matches in the highest class of Polish soccer, scoring 9 goals.
Following an early retired due to health issues, Adam coached the Polish III-rd league team Swit Krzeszowice, upon receiving his coaching qualifications. He served numerous positions at his home club of Wisla Krakow, including head of scouting and sports director, as well as being interim head coach a few times.
He went on to manage GKS Katowice and later Górnik Zabrze. In 2013 he was named as the replacement to fill in the new manager of the Polish national team shoes.
Katarzyna Nawałka and her husband sure have an interesting story. Katarzyna Nawałka and Adam have known each other since their student days. Coming from a footballing and respected family of Krakow, Adam had been set up to meet other girls. There was one in particular, Grazyna Loski, the daughter of Henry Loski – a prominent activist of the Polish Football Association –who almost took Katarzyna's place. Grazyna's father set them up back in the 70's but Adam was already associated with school friend, Katarzyna.
According to Polish media, Katarzyna was very jealous of other girls who watched for Adam, as might be expected, there were many. Among other things, because their relationship was stormy and were repeatedly on and off. She is a clear example of how Wags have always come across major drama.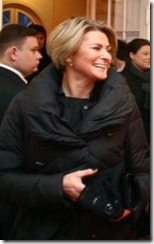 During one of their break ups, Adam, then a player, sought solace in the arms of the beautiful daughter of Henry Loski.
Many think their relationship would've developed into something bigger if not for a series of serious injuries, which Adam Nawałka suffered in 1979. A long rehabilitation led to the premature termination of his career at the age of just 24.
When Nawałka fought for a return to health by his side all the time was current wife, it was then, they cemented their relationship.
Now in present time, the lovely blonde is often seen attending matches in support of her man and her country.