Linda Zimány
Linda Zimány is the hot Wag dating Hungarian soccer star, Balázs Dzsudzsák. Her man currently plays for Turkish club Bursaspor and has served as the captain for the Hungary national team.
Balázs Dzsudzsák was born on December 23, 1986. He began his career at his hometown club Debreceni VSC, winning consecutive league titles in each of his three seasons before departing to PSV Eindhoven of the Netherlands in January 2008.
He has played for the Hungarian national team 69 times, featured in the Dutch club PSV Eindhoven for three years after transferring from Dehrecen in 2008. In 2011, he was drafted by the Russian team FC Anzhi Makhachkala before joining FC Dynamo Moscow one year later.
Last August the captain of Hungary's national football team, joined joined the Turkish club Bursaspor. At the time a picture was uploaded to the club's Facebook page showing the Hungarian holding a scarf featuring the team's name and colours.
According to his contract with the Turkish club, Bursaspor will pay EUR 1.6 million for Dzsudzsák, who will get an EUR 1.7 million annual salary and a further EUR 5000 every time he takes to the pitch.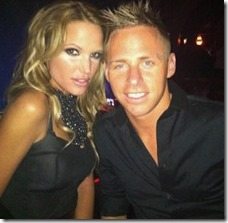 Linda Zimány is a stunning commercial model and former beauty pageant contestant. She is the 2013 Tropic Beauty Winner.
But Linda Zimany is not just a pretty face, she is a wag with brains. According to her Instagram she is also a junior lawyer/trainee. The blonde splits her time between work in Los Angeles and Budapest.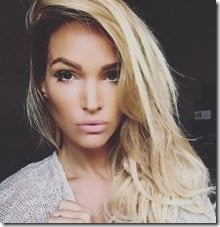 The 30-year-old who has also done TV work as a presenter, was born March 29, 1986 in Nagykanizsa, Budapest. She attended Batthyány Lajos Secondary School and obtained a law degree from the Karoli Gaspar Reformed University.
She worked in national networks including Duna Television , and later the Cool TV as a TV host and has appeared in music videos. Talented Linda who also plays a number of instruments including piano, did Playboy in 2008.
Linda Zimány is definitely a known face in her native country, mostly for a couple of relationships that include dating a band singer and a poker player. Her personal life has been well documented and it was reported she began dating Balázs Dzsudzsák since 2010.
The Hungarian socialite and Dzsudzsák allgedly broke things off in 2012. It is not yet clear if the couple are still together.
You can check out Linda Zimany on Twitter here.