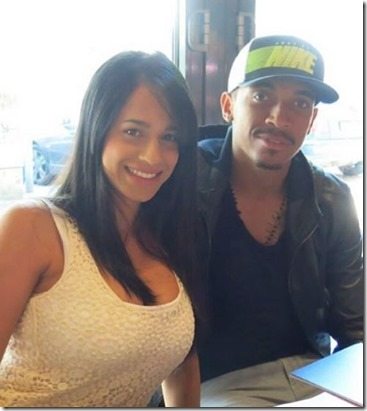 Meet pretty Milene Marx –also found as Milene Marques –she is the lovely Brazilian wife of current Bundesliga's defensive midfielder, Luiz Gustavo Dias.
Her 26-year-old hubby plays for Bundesliga clubVfL Wolfsburg and the Brazil national team. Her man is one of the countless players who leave Brazil so early as to be virtual unknowns in their own homeland, the hard-working midfielder has gradually forged a reputation on the Old Continent and forced himself into reckoning for A Seleção Brasileira.
The couple have been together for seven years and became engaged on 25 December 2010, while on holiday in Brazil.
Although born in the same place, they just started dating when he played in CRB, Alagoas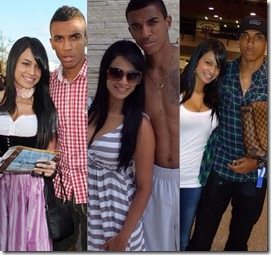 Milene does some modeling but the voluptuous gal would have to put that on hold for a while since the couple recently welcomed their first born.
They currently reside in Germany so she flew from Germany, to Brazil. They wanted their son to be a Brazilian citizen. Her hubby is often cited as a very religious guy because he prays twice a day and reads the Bible often; and last year was definitely one blessed year for him. He wasn't only waiting eagerly to become a dad but he also took ownership of the national team and has been champion of the Confederations Cup.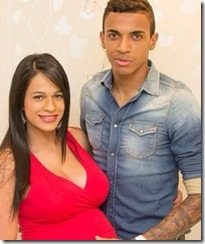 Milene gave birth to a son, Milan, earlier this year.
The lovely mother of one is a bit of a singer, we found a video of her singing "Sometimes" by Britney Spears, take a look
Not bad huh! We know now if her hubby ever quits football what plan B would be!
Unlike most of the wives and girlfriends of players of the Brazilian team, the model has stayed with relatives and friends to watch the matches in Pindamonhangaba, in São Paulo, in the family home. The reason is noble: Milan, now five months old; is still breastfeeding, she prefers not to travel to the stadiums.
Five months after giving giving birth, she displays a sculptural body with enviable curves and has lost 13 pound already!
She says when watching her hubby play
To Luiz every game is important, he is always very focused and quiet. I'm more tense
But she still supports her man's team by always doing her nails in the colors of the flag, besides wearing the yellow shirt.
You can find her on Instagram here.