Meet hot 26-year-old Analicia Chaves, the special woman in the life of 27-year-old footballer Karim Benzema. The French national currently plays for Real Madrid but could be lured in by Arsenal, said to be in desperate need of a world class striker such as the likes of Karim.
The #9 striker is widely considered to be one of best all-round forwards in the world, Benzema can make his own chances, finish clinically in the area and make assists for his teammates.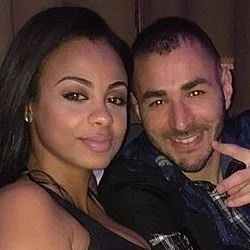 Benzema began his career playing at Olympique Lyonnais and it was obvious that he would be a great player. During his spell at the French club he collected several collective and individual honours such as the Bravo Award in 2008. He was signed to the Real Madrid in the summer of 2009.
The 6 ft 2 in player has already won a lot of titles with Real Madrid; including the Champions League, a competition in which he has an impressive goals-per-game average, his profile says.
Now lets get down to what you really want to know: Analica Chaves. The stunning gal has been having fun with Karim and is shows on her social media pages, truth is she knows how to treat a soccer player, Analica used to go out with Axel Witsel –a Belgian footballer.
If you are fan and have been following Benzema's life closely, you would know he was previously linked to singer Rihanna, the two were spotted a number of times clubbing but all that seems to be in the past as he moves on and is seen goofing around with new 'Bae' Analica, on Instagram videos. Benzema is so happy with his new gal that is almost seems as he is sending a message to Witsel, singing: 'I f****d your wife.'
Chaves who can also be found as Ana Montana is a glamour model, she was born on October 9, 1989. According to her Facebook page she specializes in n Commercial print- High Fashion, Glamour, Pin-up,&Swimsuit. Chaves-who has a couple of tattoos –reveals also that she's passionate about fashion.
Chaves has already won some fans, she has over 800K followers on Instagram and over 60K on Twitter.
Thoughts on the new couple?