Cathy Ferguson
Meet Mrs. Cathy Ferguson; the loving and beautiful wife of Sir Alex Ferguson, former Scottish soccer player and former manager for Manchester United.
Sir Alex and his wife Cathy Ferguson were married 1966. They have their first son named Mark Ferguson in 1968; in 1972 their second one named Darren Ferguson manager of Peterborough United, and Jason Ferguson.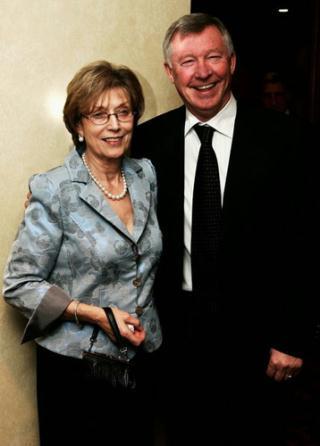 Lady Cathy Ferguson always is supporting her husband Sir Ferguson even if she doesn't know much about soccer and doesn't let him keep his medals in the house.
'My wife, Cathy, is fed up with the whole thing. When Alastair Campbell phoned her about my knighthood she said to him, "Do you not think he's had enough rewards?"
'You'll not find a thing about my career in the house at all. She's unbelievable. I can't even take a football book home or she'll say, "What are you doing with that?"'
Cathy has an agitated and joyful life with her three sons, daughter in law and grandchildren she is fantastic with the kids. "She is hard on them. But she loves the children coming here.
Sir Alex Ferguson said: Cathy runs a "military operation" when she babysits the offspring of sons Mark, 44, and twins Jason and Darren, 40.
On November 23, Cathy unveils a statue of her husband Sir Ferguson the Manchester United manager in front of a host of soccer dignitaries, players, family and friends.
Ferguson joked that Cathy had promised him that "she would come down here every Saturday morning and bow to the statue"