Sandra Di Francesco
Mert Sandra Di Francesco; she is the loving wife of Italian soccer coach Eusebio Di Francesco. Her husband is the current manager of Serie A's club Roma; he previously managed Lecce, Pescara, Sassuolo and Virtus Lanciano.
Prior to coaching Di Francesco was a midfielder with Empoli, Lucchese, Piacenza, Ancona, Perugia, Roma and Italy National Team.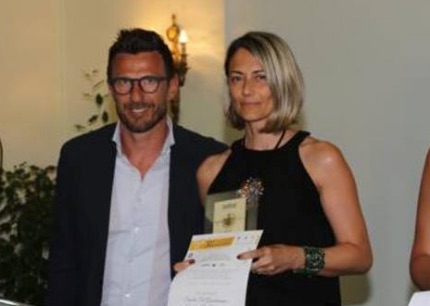 Eusebio di Francesco one of four children born to Arnaldo and Silvana started his career with Empoli in 1987; later in 1991 joined Lucchese and Piacenza in 1995. Signed with Roma in 1997, before returning to Piacenza in 2001. Subsequently played with Ancona and eventually ended his career with Perugia in 2004.
As you all probably known Di Francesco has been married to his wife Sandra Di Francesco for nearly three decades. Sandra born Sandra Di Giandomenico, is the proud momma of three handsome boys; Federico, Mattia and Luca.
Federico born on June 14, 1994, is a  winger for Bologna; Mattia plays for Sambuceto; Luca is still in school.