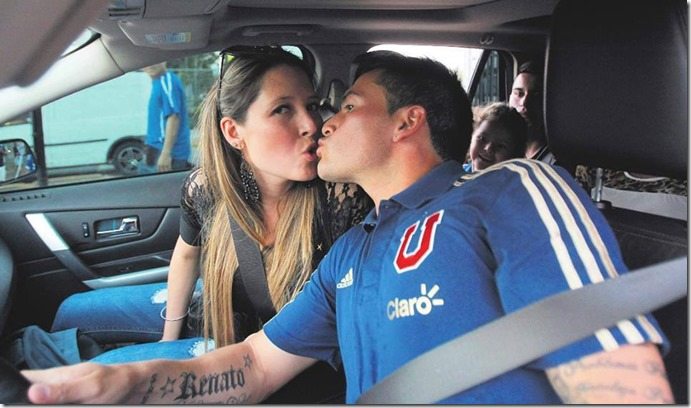 Meet Fernanda Acosta Aranguiz, the wife of Chilean footballer Charles Aranguiz who plays for Sport Club Internacional. Her hubby's goal gave Chile a two goal lead against a dismal Spanish side in the FIFA World Cup 2014.
In 2012 her hubby was named as the Best Sportsman of Professional Football by the Circle of Sports Journalists of Chile. He is known for having a couple of different nicknames including "The prince" or just "Cha cha cha"
Fernanda and her talented midfielder are the proud parents of two adorable children. Fernanda first gave birth to daughter Maite who is a five-year-old now and earlier last year they became parents for the second time to a baby boy whom they named Renato Alonso Aránguiz Acosta.
Fernanda explained to Kabbalah magazine of her husband,
" What he never fails before a match is to greet Maithe. She searches for him, and if he doesn't respond to her sings, she starts crying. Is key on each game"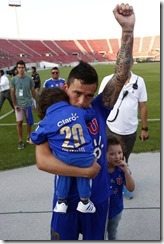 Her hubby has been playing since he was a young boy, at age 13 he moved to the lower divisions of University of Chile and made his debut with Cobreloa club, he stayed there until 2009.
Back in December when he played his last match with University of Chile, he was moved by the crowed and the love of the fans while Fernanda who was waiting for him in the locker rooms said
"We are happy for all experienced lived today in the field and all the love he has always been shown by the fans of the 'U'."
The couple met in 2007 when he played for Cobreloa. Fernanda is orignally from Calama City, Chile; she is 27-years-old meaning she is three years older than her "Principe" During an interview she said
"It really doesn't matter where we go, I love Charles I would move with him to China if necessary"
I guess that pretty much sums it all up for the couple. It seems Fernanda is a loving and dedicated full time mommy and she doesn't have much time for social media interaction.
You can find a few pictures here.