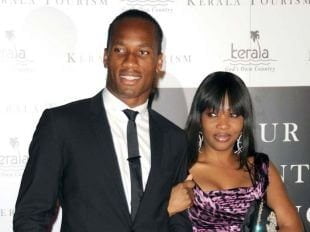 Alla Drogba or Lalla Diakite is  thе beautiful wife оf former Chelsea player Didier Drogba who is the captain of of the Ivory Coastnational team.
There is something very attractive about Didier Drogba's wife Lalla, her beauty is breathtaking, the way she looks  at someone in inviting, but yet she is very shy, Lalla allow her friendly husband take the spotlight, however Mrs. Drogba achieved without any effort or intent to take everyone's attention.
Lalla Diakite wаѕ born a Muslim in thе Republic оf Mali located in Western Africa, her parents were very young when they had her, the marriage  din't work and eventually divorced, her father was once a soccer player in Mali, about her mother we known nothing of, we heard Lalla's parents remarried and had more children; her uncle is  Mali's president Amadou Toumani Toure.
Lalla was a teenager studying to be a nurse in France when thanked to Didier's uncle Michel Goba, who was a a friend of Lalla who  introduced to her husband in 1999, the meeting took place following a soccer match, they lost track of each other but reconnected years later in Vannes, Brittany in France .
Drogba and Lalla moved in together and in 1999 they welcomed their eldest son Isaac into their lives, a few year after that she gave birth to another child, this time a beautiful girl that they named Iman, the youngest Kieran was born on May 3rd, 2010.
After 12 years together Lalla and Didier Drogba got married, the ceremony  officiated by Chelsea's owner Roman Abramovich on June 11, 2011 аt thе Marie dе Monaco , among their guest  were singer Akon,Nigerian singer J Martins,  Ghanian star Michael Essien, and his teammates including Salomon Kalou and Florent Malouda whoo were also groomsmen.