Francesca Cormani
Francesca Cormani is the stunning girlfriend of professional soccer player, Matteo Darmian. Her 27-year-old boyfriend is currently a defender for Manchester United FC. Matteo recently popped the question to his gorgeous girlfriend. Keep reading to know Francesca Cormani's biography.
Francesca Cormani's beau was born Matteo Darmian, December 2nd, 1989 in Legnano, Italy. The Italian born debuted professionally for A.C. Milan in 2006 after coming up through the club's youth system.
Despite not making a single Champions League appearance for the AC Milan in 2006/07, Darmian picked up a winners' medal as he was named in the 25-man squad for the campaign.
Darmian made his Serie A and Coppa Italia that year, though over the course of his three years at the San Siro he made just six appearances in all competitions and moved on loan to Padova for the entire 2009/2010 season.
Darmian finally got a taste of first team football at Padova, where he made 20 appearances for the club.
Darmian joined Torino in 2011 after spending a season with Palermo. He became a member of the Italian national team in 2014. Matteo Darmian was one of Manchester United's first new arrivals in the summer of 2015.
He's recently been having a blissful few days. Right after he helped the Red Devils to a 1-0 win against Spurs on Sunday, he porposed to long term girlfriend, Francesca Cormani.
The ecstatic bride to be, posted a photo to her Instagram account confirming she had said yes to the 27-year-old defender. So, for all those wondering who is Francesca Cormani, read on!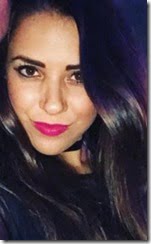 Francesca Cormani was born Francesca Eleonora Cormani, she is an Italian model –who is also a qualified interior designer.
The brunette first met Darmian eight years ago. The couple moved in together in 2013.
It must be a relief for Cormani to receive that ring after so many years together. The wag went from being a live-in girlfriend to official fiancée.
Cormani surely knows what she's getting into. She has been by his side since his days coming through the ranks at AC Milan before moves to Palermo and then Torino.
The model keeps active on social media, often posting images of her daily hassles. With a decent following of over 17k on Instagram, we can say she is a pretty social kind of girl. She has a solid group of friends –which are probably other Man Utd wags.
Aside from outings with her beau and her friends, Cormani also enjoys being outdoors and traveling.
Accoridng to her Facebook profile, she is originally from Milan, Italy.
You can find Francesca Cormani on Instagram here.