Colton Underwood
Colton Underwood, the Oakland Raiders player seems to be smitten with Olympic Gymnast and 'final five' team member, Aly Raisman. Are they more than just friends?
There sure are!!! She confirmed she and Colton have been dating since MTV Video Music Awards in late August.
Aly Raisman and Underwood might be going on a romantic outing after the hot 22-year-old gymnast accepted his video offer. Aly won a gold and two silvers in the Rio Games said yes to the date proposal during an interview with the Yahoo! Sports video channel.
But the star athlete and Colton wont be exactly alone. The pair will be joined by gymnast pal Shawn Johnson, a 2008 Olympic gold medalist, and husband, Raiders long snapper Andrew East. Her exact words:
"He's very cute," she said. "…I would go on a date with him."
Aly Raisman was born May 25, 1994 in Needham, MA. Among the her long list of achievements we can mention, she was the Captain of the 2012 US Women's Olympic Gymnastics Team. Two-time Olympic Champion! Three-time Olympic medalist, 2012 and 2015 national champion on floor 2012 national champion on beam. 2015 and 2011 World Champion, four-time World medalist.
Back in 2011 she became the CoverGirl Classic all-around, vault (tie) and floor exercise champion. A year prior she was a World Championships Team silver medalist. Also in 2011, she was World Championships team gold medalist and floor exercise bronze medalist.
In 2012 she was the U.S. balance beam and floor exercise champion, and all-around bronze medalist.
Enough about Aly, let's get to know her date and possible NFL boyfriend, better.
Colton Underwood Bio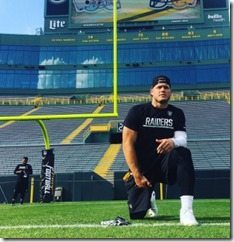 Colton  was born January 26, 1992 in Indianapolis, Indiana. Underwood –who is not related to Carrie Underwood –is a 2 star recruit turned 2 time All-American. He played college football at Illinois State. He is the son of athlete parents.
His father, Scott, played football at Illinois State from 1986-89; while mother, Donna, played volleyball at Illinois State from 1986-90. He has one brother, Connor –who also plays football.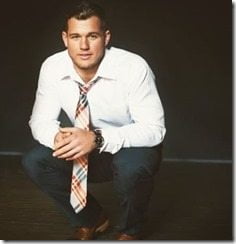 He signed with Chargers in 2014 and waived just a few months later. The Philadelphia Eagles picked Underwood up the next month, but then released him from their practice squad after six days. The Chargers picked him up for the second time two weeks later to their practice squad, but he never played in any games. The following September, he was waived from injured reserve.
The Oakland Raiders signed Underwood to their practice squad in December 2015. The 6'3″ athlete has an estimated net worth of $1.1 million, and earns around $450,000 a year.
Colton is also a businessman. He is the owner of a sports bar named, 4th Goal & Grill.
The hunky player is also big on giving back. He is an advocate for Cystic Fibrosis through his foundation, The Colton Underwood Legacy Foundation.
You can find him on Instagram here.