Hannah Bartell
Hannah Bartell is the MLS WAg and wife of soccer star Landon Donovan
Hannah's hubby Landon Donovan announced his retirement from playing soccer with the MLS. During his retirement he and Hannah Bartell got married and welcomed their first child together. With that accomplish Landon decided he was not done with soccer, therefore he will be joining his former team Galaxy!
Landon Donovan was not included in the USA National Team  lead by Jurgen Klinsmann  at the FIFA World Cup in Brazil, although the U.S team were eliminated their performance was appraised by many all over the world.
Among those was Landon Donovan who said nothing but the best things about his teammates. Donovan took us all by surprise after he announced he was retiring after this season.
Some people wondered  what pushed Landon into retirement, new career? family? girlfriend? upcoming wedding? or health issues?
Luckily, Landon is in good health and so is his family. He was married once, but we dunno is he plans to say I Do for the second time.
Landon Donovan and actress Bianca Kajlich got married on December 31st, 2006; they split up three years later, and he filed for divorce in December, 2010., the divorced was finalized in 2011.
Not long after that a British woman claimed she was pregnant and Landon was the father of her unborn child.
Landon denied the whole thing, and we never heard from that lady or her ghostly baby bump.
Hannah Bartell
Early in 2014, he was caught with his arm around a beautiful woman, that TMZ Sports later identify as Hannah Bartell.
Pretty Hannah Bartell holds a bachelor of Arts , hospitality Administration from Boston University, in 2012 she received her masters of business Administration (MBA) from the University of Southern California.
Hannah has been working as a  senior sales executive at JW Marriott Los Angeles since March, 2008; before that she worked as senior sales manager at LAX, before she was a n event manager at Renaissance Los Angeles Airport.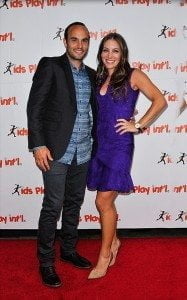 Pin
In February, 2010 he and Hannah got engaged.


Good morning!

I want to thank you all for your continued support as I've transitioned into a new chapter of my life. I've received many beautiful/powerful messages and gifts and I'm so incredibly grateful.

Retirement has been everything I could have hoped for. I've enjoyed trips to Peru and Ecuador to visit orphanages, Bandon Dunes Golf Course in Oregon, India and the Maldives. There are many more trips to come and I can't wait!

I've also had more time with my family and close friends over the last 2 months than I had in the previous 16 years combined.


I'm in the process of enrolling in college and have started many other exciting ventures that I've always been passionate about. There are many more intriguing things on the horizon and I'll keep you updated as they arise.

Lastly, and most importantly, recently got engaged to the love of my life, Hannah :)

Never been this happy and excited for our future together!

Thanks again for all the love and have a great week!

Graciously,
Landon





They tied the knot on March 15, 2015. The happy couple welcomed their adorable son Talon Bartell Donovan on February 27, 2016

Find Hannah Bartell on Facebook here