Meet Holly Dyer
Holly Dyer is the wife of 36-year-old former England footballer Kieron Courtney Dyer. Her man, who used to play as a midfielder has currently changed his field, appearing as a contestant on reality TV, I'm A Celebrity… Get Me Out Of Here!
According to the Mirror, Kieron who's been confirmed to appear on the show, will make the perfect contestant, saying the former footballer will no doubt come in handy when it comes to some of the more athletic Bushtucker Trials.
According to the Daily Mail, Holly's man arrived at Brisbane airport wearing a blue Nike tracksuit with his hood over his head.
The fans might recall, Kieron's career was blighted by an on-pitch brawl with his team mate Lee Bowyer in 2005.
The pair came to blows during a 3-0 home defeat against Aston Villa in 2005 when they heaped shame on Newcastle United. Dyer talked about the incident saying, says that it was a personal insult aimed at Bowyer's lack of ability that pushed him over the edge. Since then, the pair have patched things up.
Other than that, Holly's man had a pretty sweet football career having made nearly 200 appearances for Newcastle United between 1999 and 2007 and represented England on 33 occasions between 1999 and 2007.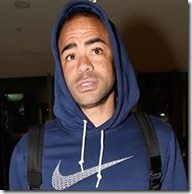 Pin
He also played for other teams, including, West Ham, Queens Park Rangers and Middlesbrough before retiring from the sport in 2013. Though he never matched his success after Newcastle United.
Not much is known about Holly Dyer. At a first glance, she seems she enjoys her privacy and is not your typical fame-hungry type wag. Instead, Holly Dyer, likes to keep to herself. Apparently Holly Dyer is not on social media thought we assure you she must be super supportive of her man. They tied the knot in 2014.
Holly's man can be seen on the Reality TV show which starts on Sunday ahead of its fifteenth season.