Meet Katherine Ramirez
Katherine Ramirez is the wife of MLB player Jose Reyes. Her 32-year-old Dominican hubby is currently a shortstop for the Colorado Rockies.
We usually tell you about players and their WAGS on a more happy note but this is not the case.
Recent reports indicate the couple who has been married since 2008 have major issues! Katherine Ramirez has accused her hubby and baby daddy of assaulting her!
The altercation between the couple went down during Halloween night. Katherine Ramirez claims Jose Reyes grabbed her from the neck and threw her into a glass door! Ouch!
Local police was called at the hotel room in Maui at the Four Seasons Hualalai, where Katherine and Reyes were staying. According to Hawaii News Now, Reyes was arrested on the spot.
It was determined Katherine Ramirez, had damage to her wrist, neck and thigh.
Jose Reyes has been in the MLB for 12-years. He has previously played for the Mets, Marlins and Blue Jays. He was traded to the Rockies in a blockbuster deal for Troy Tulowitzki in July.
The the four-time All Star was the National League's stolen base king in 2005, 2006 and 2007 and won a batting title by hitting .337 in 2011.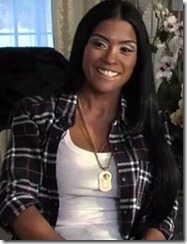 The marriage of 7-years are the proud parents of three children, all girls. Katherine Ramirez gave birth to daughters, Katherine, Ashley and Joselyn.
Katherine Ramirez married Reyes at New York City Hall in July 2008, reported the New York Daily News at the time. They had a small ceremony only attended by close friends and family. The day of their wedding Reyes had a game, at the time he was with the Mets.
According to Playerswives, Katherine Ramirez met him during his rookie season in 2003. Though they had a small ceremony in NY, it was reported they later had a big and lavish party in their native Dominican Republic.
Only months after their wedding, scandal broke that Katherine's man was involved in an affair with a pinup model named, Bentley Matthews. The New York Daily News said, Reyes' agent, Chris Leible, said the allegation was an "absurd, trashy story."
The couple sure has had their ups and downs, but, will they get through this one? Will Katherine Ramirez forgive and forget?
KHNL said Reyes was arrested for abuse and released on bail.