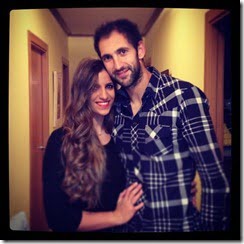 Iria Otero Rodriguez is married to Real Madrid's goalkeeper Diego Lopez. According to sources, the couple met 7 years ago. They have a daughter together named Zoe.
28-year-old Iria said she loves soccer and enjoys watching her husband play.  She describes her hubby as:
"… very familiar and friendly, he loves spending time with his family, he brings calm to my  life," she added "he is very kind, I've never met someone like him before."
Their wedding was held on Pontesampaio, near Arcade, on June 11, 2011, gathering 250 guests. The reception was at the Los Escudos de Vigo Hotel.
The couple lives in Sevilla with their daughter, because Lopez was goalkeeper for the Sevilla team, but now they are looking for a house in Madrid. Lopez is Real Madrid's goalkeeper after Iker Casillas was injured. He has signed contract until 2017, even though Casillas medical leave will end in a couple of weeks.
Follow Iria on Twitter here. Find Iria on Tumblr here. Even baby Zoe has her own Tumblr profile! Find her here.