Meet Izabel Andrijanic
Izabel Andrijanic, is the hot girlfriend of Croatian footballer, Mateo Kovačić. It's exciting times for her 21-year-old boyfriend, who's been signed to the Real Madrid and will stay there for the next 6-years.
According to a statement released today, the Real Madrid official page said Mateo will be presented tomorrow, Wednesday 19 August at 1pm, in the presidential box at the Santiago Bernabéu, after undergoing a medical.
Kovacic was signed from Inter Milan on a six-year contract, Madrid did not confirm the value of the deal but Kovacic, is reported to have cost around €30 million, ESPN reports.
Kovacic has often played as a No. 10 for both Inter and Croatia, he had been linked with a move to Liverpool earlier in the summer.
In January 2013 he was signed by Internazionale from Dinamo Zagreb –where he started his professional career at 16 –it took him more than 20 months to score his first Serie A goal. He scored a total of five goals in 80 league appearances.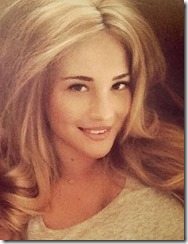 Izabel and Mateo have an item for a while now, she attended the FC Internazionale Christmas Party at San Siro Lounge on December 17, 2014 in Milano, Italy and was pictured next to her guy.
According to a LinkedIn profile she studied at University of Economics in Zagreb. Her boyfriend's current status as a Real Madrid player also makes her the new WAG of Real Madrid.
She has over 400 followers on Instagram,but is just a matter of time for the beauty to increase that number. Judging by her social media photos, Mateo is a lucky guy, Izabel has a lovely face and nice body to go along. The young lovebirds enjoy hanging out with friends and Izabel is even close to his sisters which makes her almost family. She keeps active on Instagram but her account is set on private.
Andrijanic has even been credited for her man's play improvement, do you think she makes him happy?