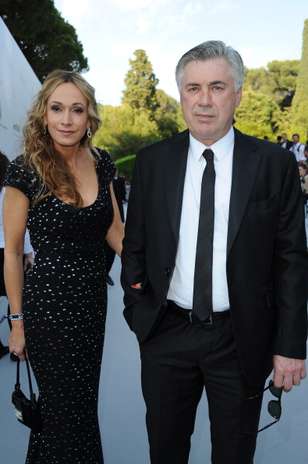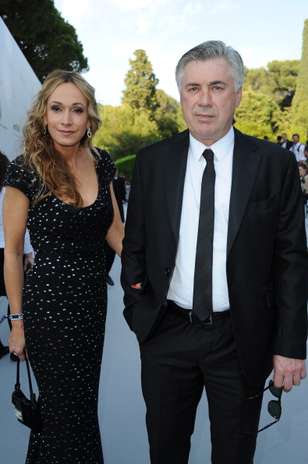 Have you met Real Madrid Coach Carlo Ancelotti's girlfriend? no, not Luisa, that is his ex-wife and not Marine Cretu either that is his ex-girlfriend, Ancelotti is currently dating a  stunning blonde identified as Mariann Barrena McClay.
The Italian coach currently  managing Real Madrid was married to his wife Luisa for over two decades, after that he dated  gal Marina Cretu and today he has been seen with a pretty blonde by the name of Mariann Barrena.
Ancelotti, and his x-wife Luisa Gibellini have two children Davide, 24,  who is Real Madrid's fitness coach, and daughter Katia, 30. After their divorce he dated journalist Marina Cretu, 13 years younger than him.
When he was introduced to Real Madrid fans as their new coach, it wasn't Maria or Luisa by his side, but Mariann Barrena, 43.
Mariann Barrena aka Mariann Barrena McClay was born in Vancouver, Canada to María Concepción Gutiérrez and Antonio Barrena.
Mariann holds a MBA in Marketing from Thunderbird School of Global Marketing , MBA in international business and Ph.D.,  in Finance from Cass Business and a BBA  in business administration from Simon Fraser University.
Mariann, the owner and president of Mondo Uomo Enterprises Ltd in Vancouver worked in the public and investors department at Dayton Mining Corp. , she was also a consultant at Barclays Bank, at Data Miners and Elsworthy Capital  in London where in 2011 she met Carlo Ancelotti who was  working with Chelsea at the time.
Like her boyfriend Mariann Barrera is  a divorce woman with a beautiful teenage daughter Chloe a student at Tring Arts Educational School, McClay is her ex-husband surname, which she uses sporadically.