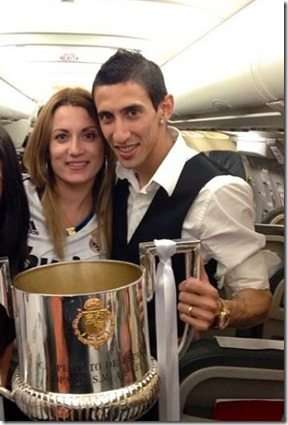 Meet Jorgelina Cardoso, she is the wife of Argentine pro footballer Angel Di Maria, her husband –the midfielder for Spanish La Liga club Real Madrid –has shone at the Bernabeu this season in a central midfield role, but speculation over his future has continued, while interest in Sevilla skipper Ivan Rakitic could see him made surplus to requirements.
Los Blancos have slapped a £45million valuation on her hubby's head – and that's too rich for the FA Cup finalists.
But enough on the trading rumors, let's get down to our main character in this post.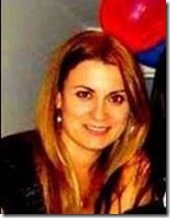 Also a Rosario native, Cardoso and Angel dated for two years before tying the knot in Argentina at the end of July 2011 before 200 guests. She has been described by the the Argentine media as an opinionated woman, she is without a doubt her husbands biggest fan and is not afraid to face anyone when it comes to defend her man from the negative criticisms.
Cardoso will get in your face if she needs to, and is constantly posting little encouragement messages for her hubby. Ever since they got married they've gotten even more close, she has even been appointed as the players' manager. She is 6 years his senior and has stuck up for her man in several occasions.
Earlier this year controversy sparked when her husband made a peculiar gesture As Di Maria jogged off the pitch, the home crowd jeered his performance — something he should probably be used to by now. But he responded by casually grabbing his crotch just before he reached Bale on the touchline.
Jorgelina responded by posting on Instagram (translated from Spanish)
"When it comes to small minds and petty words deaf ears are needed"
Ms. Di Maria and her 26-year-old husband recently welcomed their fist child together.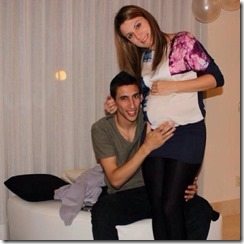 "Jorgita" as she is fondly called, gave birth to their daughter Mia in late 2013. Unfortunalety their baby girl was born with health issues. Mia was born April 22, and spent two months in the ICU area.
The mom of one, shared her story once again on her social media account, telling how heartbreaking it was to see her little baby-girl fighting to stay alive day after day and not being able to bring her home. She post to Instagram
No one but Daddy and I know the pain it caused see covered cables and devices on your beautiful face. Nothing sadder than go home with empty arms and breasts full of pain. Infections, transfusions, what will become of you my love? Tears soaked our pillow every night, constant knot in my throat. Feel like going to find you and never let you out of my sight. What's in store for your destiny?
A year later a happy Jorgelina shared the news of her daughter's recovery posting several pictures of the baby girl's process from the hospital to finally getting home to her proud parents. Congratulations to the family.
Find Jorgelina on Instagram here.