Meet Megan Duffy
Megan Duffy is the girlfriend of amateur soccer player, Jacob Schilt – sadly her boyfriend is one of at least 10 others who tragically lost their life in the Shoreham air show crash/disaster on Saturday.
Jacob studied Geography at the University of Portsmouth, he graduated last year; a statement from the Crystal Palace Football Club, says the 23-year-old was travelling on Saturday to play for Worthing United when the vehicle he was travelling in was hit by the aircraft on the A27 main road.
Jacob participated in the Robert Eaton Memorial Fund match against Brighton at Lewes in April, he represented the Seagulls in that game.
Megan and Jacob met during her first night out at Portsmouth University three years ago and had been a couple ever since. In a statement Jacob's parents mentioned Megan and future she and Jacob got stolen.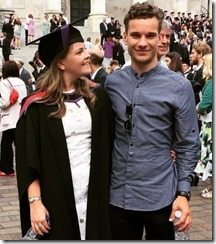 In deed, Megan who recently graduated, is clearly devastated and calls Jacob the "love of her life" in a touching tribute she left at the crash site. The 22-year-old says:
'You were the love of my life and I am sure we would have grown up to get married, had babies and live in Brighton.

'I'm sure we would have 10 cats too that you would chase about.

'That will never happen now but I will always love you and you will always be a part of me. I will forever cherish all the memories that we shared.'
Along with the heartfelt tribute hundreds of flowers have been left at a bridge near where the air disaster took place.
Her boyfriend had been obsessed with soccer since an early age, he captained the Varndean College football team and used to play for Patcham United and Hove Riverdale.
According to Megan's FB page, she has been working at Tesco since 2013, she called Catford, Lewisham, United Kingdom her hometown and her current location is Gillingham, Medway.
Megan told The Argus "Had he left here 30 seconds earlier he would not have been there.' She was on her way to watch Jacob's match.
We send our condolences to Megan and Jacob's family and friends.
Find her on Twitter here.