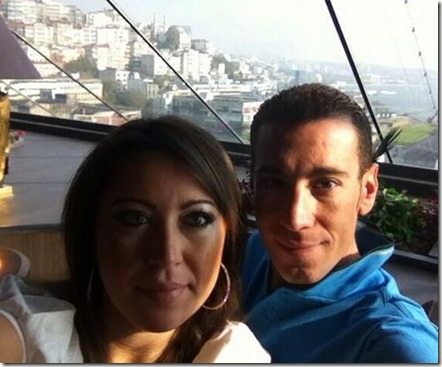 Meet lovely Italian Rachele Perinelli, the wife of nearly two years of Italian road bicycle racer Vincenzo Nebali. The Astana cyclist launched a canny late attack to win stage 2 and take the lead at the Tour de France on Sunday, but unfortunately for the eyes of the world, the 29-year-old did not have the same luck on the podium as he was denied his celebratory kiss form one of the podium girls.
On the other hand, the rider sure has plenty of kisses at home, from his lovely wife Rachel. Her hubby Runner on stage races, professional since 2005, won the Vuelta a España 2010 and the Tour of Italy, 2013, two editions of the Tirreno-Adriatico, and is the second Italian, after Felice Gimondi, to be on the podium in all three Grand Tours. He is nicknamed "The Shark of the Strait" from amateur, because of his way of running always on the attack.
Rachel is originally from an Italian town called Alatri, she was born October 4, 1985.
Rachele and her man first moved in together to Lugano in the spring of 2012 and tied the knot on October 2012.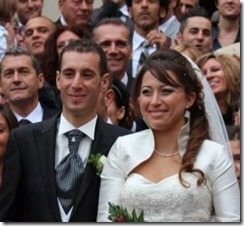 Earlier this year her hubby attended the first edition of the Dubai Tour but got back home just in time for the birth of the couple's only child, an adorable baby girl named, Emma; back in February. The happy news of her pregnancy was made public via Twitter: In response to an enigmatic tweet Vincent – "If you should choose? What would you prefer? Blue or pink jersey knit … "- Rachel also posted the ultrasound image in which, for the first time, the two parents saw the baby, answering:" Let her choose him the shirt! "
Previously to their wedding she was a resident from the province of Acuto. As soon as Nibali met her he phoned a friend and said: "I've met a fantastic girl, I'm going to marry her" and that was exactly what he did. When you are a successful athlete, you are probably used to achieve that, you want the most!
Rachel is Agnoli's wife's best friend, we mean Valerio Agnoli –another Italian road bicycle racer.
She is amazingly supportive of her husband but for now, little Emma Vittoria needs her home.
You can see more picture of the couple here and also follow the lovely mom and wife on Twitter here.