Sephora Coman
Sephora Coman is the soccer wag married to French footballer Kingsley Coman. Her hubby who plays for Bayern Munich and the French national team has been described as one of the biggest talents in European football.
Sephora's hubby was born June 13 1996 in Paris. Kingsley Coman started his youth career when he was six years old, joining US Sénart-Moissy in 2002. He then joined Paris Saint-Germain in 2004.
He made his senior debut when he was only 16 years old, appearing in three games for Paris Saint-Germain. He signed with Juventus in 2014 and has also played for Bayern Munich on loan.
Last year the France U21 international striker signed a deal with Bayern Munich. The 20-year-old has played at Juventus since 2014 after joining from Paris St Germain. Bayern paid €7 million to sign the player for the next two seasons.
Juve also confirmed on their official website that Bayern would be able to make the winger's move permanent for €21m at any stage up to April 30, 2017. Coman made 20 appearances for Juve last season in all competitions.
He started representing France internationally in 2011 as part of the U16 team. He joined the senior national team in 2015.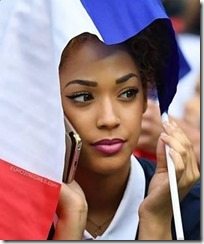 It seems success has followed the young player on and off the field. He is not only one of the biggest talents in European soccer but he is also a happy family man.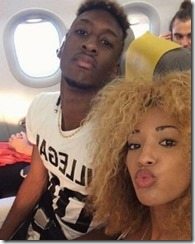 Sephora Coman makes for one of the hottest French wags. She was born Sephora Goignan, originally from La Guadeloupe, Quebec and she is stunning, blonde, has a great smile and perfect curves.
The best part is that she is super supportive of her man and is often seen cheering for Kingsley during matches, she is hard to miss with her shining locks out there.
She and her hubby are the proud parents of an adorable two-year-old baby girl. The 21-year-old model is sure the envy of many with her great body shape after having a child.
When not being a supportive wife, the young mother of one also has a career of her own. Sephora Coman in currently under contract with Parisian agency Rixon.
Many snaps of her modeling skills can be found online. You can check out the lovely Sephora Coman on Facebook here.