Sidonie Biemont
Sidonie Biemont is the stunning model wag dating French soccer star, Adil Rami. Her 30-year-old man currently plays as a central defender for Spanish club Sevilla FC and the France national team.
Adil Rami was born December 27, 1985 in France. The defender played for Lille from 2007 to 2011 and Valencia from 2011 to 2014. He became a member of the French national team in 2010. He debuted professionally for Frejus in 2003 after spending about a decade in the club's youth system. He was sent on loan to A.C. Milan in 2014.
At 21, he signed his first professional contract at LOSC and becomes a important part of the team from its second season.  He also scored his first goal as a professional against Olympique Lyonnais and performs four full seasons with Lille before signing in January 2011 in favor of Valencia. At the end of his final year in the Lille tunic, he won his first two trophies, namely the championship of France and the Coupe de France.
Meanwhile, he made his debut with Team France then becomes incumbent upon Laurent Blanc era and participates in the Euro 2012.
He joined Valencia the team in June. In his first season, Adil Rami becomes undisputed starter, playing a total of 53 matches. His second campaign is more irregular, and dispute a total of 36 games. The 2013-2014 season begins with the Valencia team, but the September 25, 2013 is expelled from a camp in Granada and is forced to return to Valencia for a controversial public statements that lambasted the technical and part of their peers.
From the October 16, 2013 the player trains with AC Milan on loan, transfer became effective on January 2, 2014. He was finally transferred to the Italian side in the summer of 2014 by 4.2 million euros.
On July 2015, it was confirmed that Sevilla FC had reached an agreement with Milan to sign Rami for four seasons, the transfer fee is believed to be €3.5 million.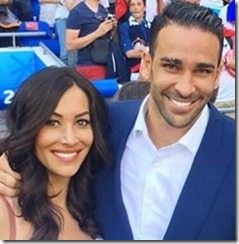 Sidonie Biemont and Adil have been in a relationship for at least five-years. The couple makes for one of the most hottest French soccer couple's of the moment. Sidonie Biemont is currently very pregnant and looking even more beautiful. She is often photographed attending her man's games and hanging out with other wags.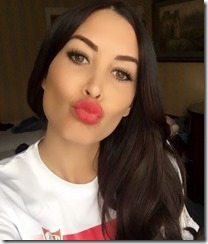 Sidonie Biemont is a model and is known for her work on French show, Tonight with Arthur. The show has been controversial as it was reported to have been stealing ideas from American shows like Jimmy Fallon or The Late Late show with Craig Ferguson.
The lovely Sidonie Biemont has a following of her own. The French national has over 30K followers on Instagram as she is very active on her social platforms. The ultra fashionable couple will welcome their first kid later this year.
You can check her out on Instagram here.