Vanesa Mansilla
32-year-old Argentine Vanesa Mansilla is the long time wife of soccer star Carlos Tevez. Her forward husband, who signed a three-year contract with Juventus in 2013, is expected to lead Juventus to victory in UEFA Champions League. Did we mention that Juventus haven't won the Champions League since 1996?
Luckily for the former Manchester United striker, he has all the support system a player can get from his family, but things weren't always like that!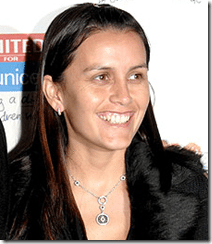 Vanesa and her husband have been together for a long time, they met when they were both teens living in Fuerte Apache.
At first, when it was known she and Tevez had a relationship she was described as a shy young woman but as years went by she completely changed making Spanish media take notes!
From the way she talked to the way she dressed Mrs. Tevez was on a mission.
She was no longer the shy mom of two, but a woman willing to defend her rights. Following several cheating allegations hanging on Tevez's neck, Vanesa bravely appeared in a famous Argentinian talk show; she told the world she would give the father of her children another chance.
In 2011, Tevez himself admitted he had been an awful partner to her; blaming fame and his youth. But also said he was determined to get her back; soon after Vanesa and their two daughters moved to Europe to be a family again.
The couple who's been together for at least 15-years have three children daughters: Florencia and Katia and son: Lito Junior Tevez, who was born in February 2014.