Glennon Doyle Melton
Meet Glennon Doyle Melton, the Christian blogger, best selling author and sought after speaker who became the wife of retired soccer hero, Abby Wambach.
Glennon's new wife is a well known figure in female soccer history. The 36-year-old retired soccer player is a two-time Olympic gold medalist and FIFA Women's World Cup champion.
Wambach, a NY native and star forward became the all-time leading scorer for the U.S. women's soccer team and prior to her success as a professional soccer player, she was a three-time All American while playing college soccer for the University of Florida.
Now, if you are here is because you know who Wambach is on the professional level. But there's also, Abby Wambach the woman. Abby who's always been open about her sexual preferences was previously married to longtime partner and fellow soccer player, Sarah Huffman. The marriage lasted three years from 2013 until 2016.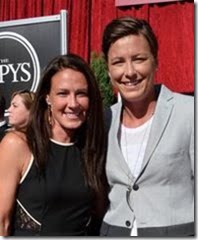 She and Glennon Doyle Melton announced their relationship last November and became engaged this February. Only thing is that, Glennon Doyle Melton was until a couple of years ago a perfectly straight woman.
Contrary to Abby, Glennon Doyle Melton used to be married to a man. She tied the knot to Craig Melton in 2002 and together became the parents of three children, including daughter, Tisha Melton. The couple was married for 14-years but announced their split last August, just two months before she announced her relationship to Abby.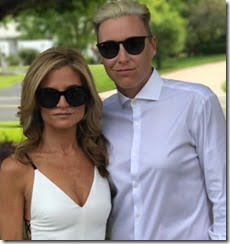 Glennon Doyle Melton was born March 20, 1976. The Virginia native is also a public figure, best known as a Christian blogger, whose bestselling "Love Warrior" chronicled her marital struggles.
Love Warrior, was selected as an Oprah's Book Club pick, as well as the New York Times bestseller Carry On, Warrior. Glennon is also the founder of Momastery, an online community reaching millions of people each week.
The busy lady is also the creator and president of Together Rising—a non-profit organization that has raised seven million dollars for families around the world through its Love Flash Mobs, revolutionizing online giving.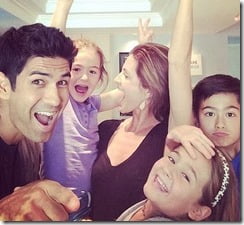 According to her blog, Momastery.com, Glennon Doyle Melton struggled with addictions including bulimia, for over 20-years. In  fact, her readers know her for her honest portrayals of her struggling marriage, addiction and eating disorder.
The mom of three has appeared as a guest on a number of TV shows including Today Show, The Talk and OWN.
She and Abby Wambach were married on May 14th. Congrats!
Find Glennon Doyle Melton on Instagram here.