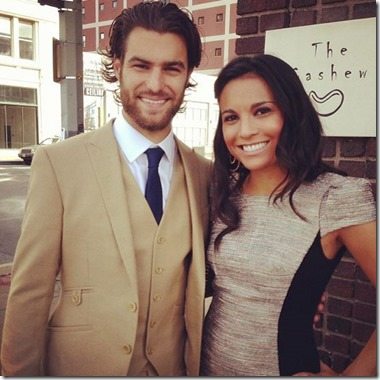 Meet 29-year-old Abra House, the lovely girlfriend of footballer Graham Zusi. Getting past the fact that she has a weird name, Abra and Graham have been together since 2011, so we know she is a keeper, then there's the question of timing and timing is everything when it comes to relationships and dating a Sporting Kansas City and US national team soccer player.
Her man was featured prominently about a week ago in USA Today Sports as the man who is 'quietly becoming the next star of American soccer; his coach at Kansas City says he's the hardest working guy in training every day basically means he'll get shipped off to the premier league in Britain soon, do you agree?
Abra who according to records was born Abra Rachel House is originally from City of Fountains, that is where the couple lives. She is pretty tight lip, enjoys her low profile and although her man flaunt her on his social media accounts she likes to keep things down low, her tweets are protected and her instagram account doesn't give us any clues either.
Graham on the other hand tweets pictures of the couple's outings whether they attend a wedding or are heading to vacation in Maui.
Judging by their photos, the couple –who seems to be dating for at least 3 or 4 years –enjoys two things, the outdoors and their four legged friends.
We did found Abra's LinkedIn and according to that, she is a Dental Network Specialist currently working at Assurant Employee Benefits. She attended the University of North Carolina at Chapel Hill from 2003-2007 for her Bachelor of Arts (B.A.), Psychology and also has a Masters from Rockhurst University.
House has also worked at Walters, Benders, Strohbehn, and Vaughan as a legal assistant.
This is what her competitive man has said about her
"She's overwhelmingly supportive. I know it can be difficult at times, especially with the amount of travel we do, but she handles it so well. She's very understanding of the time and effort that goes into the game."
Think they will tie the knot soon? Supportive Abra is probably cheering right now for her man in Brazil!