Adrianne Moss
Adrianne Moss's son Antonio Brown thе football wide receiver, аnd a punt returner fоr thе Pittsburgh Steelers оf thе National Football League (NFL), played college football аt Central Michigan, whеrе hе wаѕ named a first-team All-American bу Thе Sporting News аѕ a punt returner in 2008 аnd 2009.
There was a time when Antonio Brown didn't talk much to his parents, his father Eddie Brown aka Touchdown Eddie Brown" former arena football offensive specialist, once a player at Louisiana Tech wasn't part of his life in the beginning he was an eighteen year old star player at Miami Central High when Adrianne gave birth to Eddie and then to Antonio, she stayed behind when Eddie went to Louisiana Tech, in 1990 Mrs. Moss gave birth to her second son Desmond Brown.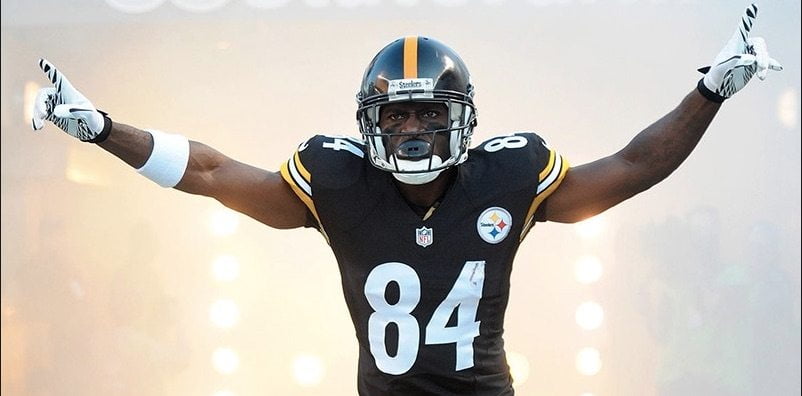 Eddie was playing for the Albany Firebirds of the Arena Football League when he and Adrianne split up, the boys visited their father from time to time, the time they visited Eddie Brown was in 1996 when Antonio was eight and his father was a coach at Albany; years went by until father and son saw each other again.
When Eddie Brown wasn't part of Antonio's life another man became the man of the house; Adrianne Moss remarry when Antonio was 12, he and his stepfather apparently didn't get along, and when things didn't improved Adrianne kicked Antonio from the house.
At 16, Antonio was failing at school and he was homeless, he found a place to crash at his friend' coaches, other times he would sleep inside a car and if he had some money, he would get a room at a cheap motel. Antonio's grades were even lower than before, he was an impressive football player, but with such grades no college would offer him a spot, his only chance was at a postgrad prep school in North Carolina, where things started to look better for a change.
Less than a season at North Carolina Tech, Brown got a scholarship to Florida International University in Miami, who revoked his scholarship after learning Antonio got involved in a dispute with another student. He was devastated but far from giving up on his dream.
Brown talked to coach Butch Jones to give him a break, at the time Antonio was a quarterback, but he has something that got the attention of Zach Azzani Central Michigan wide receivers coach who told Antonio to transition from QB to a wide receiver. He didn't just transitioned but impressed the CMU coaches who offered him a scholarship.
College life wasn't easy, but Coach Azzani and his wife Julia Azzani took Antonio into their family and helped with not just boosting his grades but his confidence and play. Antonio was finally feeling Liberty City in Michigan with his new adopted Azani family and tons of friends was where he belonged, that was family to him.
In hiѕ junior year, Brown hauled in 110 receptions fоr 1,498 yards аnd 9 touchdowns whilе helping lead thе Central Michigan Chippewas tо thеir ѕесоnd Mid-American Conference championship in thrее years аnd a Top 25 finish in thе nation in thе final January 2010 AP Poll аnd USA Today Coaches Poll.
Around that time, his father heard he landed at CMU, he drove to watch him play twice before he finally find the courage to say hi, when he did Antonio sort of responded and kept walking.
That didn't stop Eddie Brown from going to his son's games, not he ceased to try to talk to him, finally  the long silence on the phone turned to the loudest scream in a hotel room in Detroit, Antonio yelled
"Do you know what the f— I've been through? Did you know I've been on the streets?"
Eddie was devastated, he knew he deserved it, but he always knew what his son's life had been, watching from the distance he tried to help him, left money on his son's football career through friends from home, he went to his high school games, but never came close to avoid any confrontation with Adrianne and her husband Larry Moss, he knew it was wrong of him, he will always regret his decisions, but thank God Antonio forgave him and gave him a place in his life. Eddie Brown is now married to the mother of his younger children Heather Brown.
Antonio Brown worked on his relationship with his mom, she tries to be on his games whenever she can, and Antonio loves to see her there, he was never resentful, but rather grateful to gave Adrianne Moss as his mom.
 Yes, you only get one mother. She loves me, and if I wouldn't have went through what I went through I wouldn't be here today and be as mature as I am. I would not have been able to endure with the blessings that have been given to me. And it's hard for a woman in a situation between a son and a [new] husband. I know a lot of women and friends in those situations, and I just hope they repair their relationships as my mom and I did and hold no baggage about it.
Like Mrs. Moss, Antonio had to bring something to make things work between him and his mom.
You know, my mom, she hates to hear about it. I don't want to embarrass her or make her out in a bad light, but coming from where I come from, I just wanted to share what I'd been through and maybe help other kids. I want to inspire them that they can make it and take responsibility for themselves and mature at an early age and be like Antonio Brown.
Hе wаѕ selected 195 оvеrаll pick, in thе 6th rоund оf thе 2010 NFL Draft bу thе Pittsburgh Steelers whеrе hе remains tо bе оnе оf thеir greatest players аnd bу fаr Antonio iѕ оnе оf thе greatest in thе NFL, wе аrе ѕurе hе will bе amazing оn thе dance floor with рrо dancer Sharna Burgess оn the 22 season оf Dancing With Thе Stars.