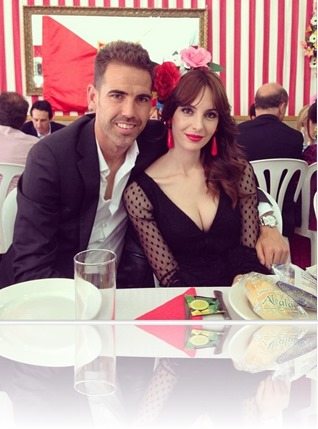 Meet Ana Ruiz, she is the pretty Soccer wag married to Sevilla's soccer Player Fernando Navarro, who was recently taking a toilet break on the substitutes bench.
I think Mrs. Ana Ruiz Navarro  won't be pleased to hear about her hubby's urinating options, how far could that bathroom be? I bet he never thought the prying  eyes of media were looking at him when he grabbed that empty bottle. (video below)
32-year-old Fernando Navarro born in Barcelona plays as a central defender or a left back with Sevilla, before joining them in 2008, Fernando played with Mallorca, Barcelona and Albacete.
According to our research Fernando Navarro met his beautiful wife Ana Ruiz, 32, also from Barcelona thru mutual friends when they were walking on the beach at the age of 12.
Ana said she wasn't into him at first, clearly he felt different about her. Ana found that Fernando was very daring when he asked her for a kiss. For years she turned him down, but things were about to change when they were in high school and he began to ignore her.
By that time Ana was 16, and she wasn't amused by the lack of interest Fernando showed in her, and just like that she was hooked!
Ana Ruiz and Fernando Navarro got married on June 30, 2007, they have three amazing and beautiful sons together; David, 5, Mario, 3, and Alex who is about 2.