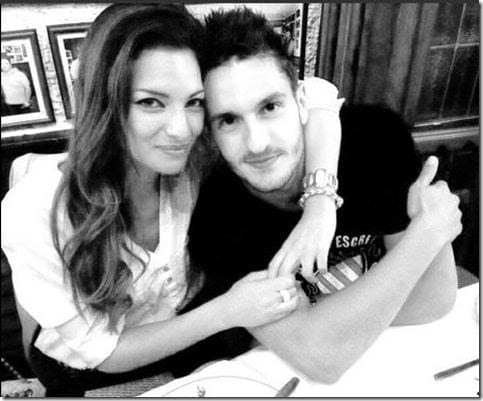 Models, singers, actresses, presenters … we see it all the time, it would seem soccer players always get the best chicks under the spotlight but no, there are cute girls who don't live by and for their image. An example is Beatriz Espejel, one of the charms of Atletico Madrid.
The 25-year-old Spanish is the current girlfriend of Jorge Resurreccion, doesn't ring a bell? Well you might known him better just as "Koke"
Espejel's boyfriend plays for La Liga club Atletico Madrid and the Spain national football team, as a midfielder and her guy is one of the key elements of coach Cholo Simeone, so his "wellbeing" is one of Beatriz's key responsibilities. Let's get to know her better and thank her for all her hard work and efforts to keep her 3-year-junior boyfriend happy.
She was born Beatriz Espejel Jiménez and is an English teacher currently working at Albany School. She has a younger brother named David, who also plays football and of whom she is super supportive; her father is Felix Espejel Munoz.
Espejel graduated in 2010 from Universidad Complutense de Madrid with a double degree in Education of EF and Foreign Language Teaching. Meaning she knows a couple of things in sports! During her time in university she kept a daily blog to document useful information she shared with other students, if you are fluent in Spanish, you can take a look here.
But she is not only a young pretty gal, besides being school oriented, having her career and a big football fan, she is also very stylish and has had her stints in fashion. She has done a couple of modeling gigs, nothing big but we can tell she has what it takes!
She turned 25 just a few days ago on June 12 and even thought the couple did not spend it together because of their busy schedule, Koke did tweet the picture below whishing his gal a happy birthday!
Beatriz and Koke are one of the most established couples of Atletico and she is always seen accompanying him whenever she can. Unfortunately she keeps busy with her students but she is a big fan of social media always tweeting supportive words not only for her man but for the entire team, doesn't matter the outcome the lovely teacher always finds the right words to lift up their spirit.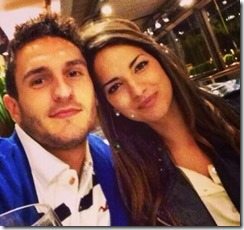 One of the couple's favorite getaways for the summer is the Spanish island of Ibiza. Espejel is super affectionate with Koke, she calls him her "prince" Beatriz also shares pictures of her other love, the couple's pet, a cat named Romeo (pictured above)
According to her Facebook she currently lives in Cambridge, Cambridgeshire.
In a few words she is Koke's biggest fan. Find her on Twitter here.