He sure is happily married. Meet Mrs. Beth Daboll, the beautiful wife of NFL coach Brian Daboll, the current. head coach for the New York Giants.
Before joining John Mara's team early in 2022, Coach Daboll was the offensive coordinator for the Buffalo Bills; he also worked with other NFL teams like the Patriots, Browns, Jets, Dolphins and the Kansas City Chiefs, as well as some college coaching at Alabama, Michigan State, and William & Mary.
Coach Brian Daboll has five Super Bowl rings while he served as tight ends coach for the New England Patriots from 2013 to 2016. In addition to the Super Bowl, Brian Daboll won a College National Championship with the Alabama Crimson Tide at the University of Alabama.
Brian Daboll Parents
Brian Daboll born on April 14, 1975, in Welland, Ontario, Canada, the son of Nancy Kirsten who was very young when she had him. He never met his father, who has since passed away; Coach Daboll grew up with maternal grandparents Ruth and Chris Kirsten.
"My mother was a teenager, in her late teens, and she met a man from Canada. She got pregnant. After she got pregnant she got married. I was born in Canada, and I would say very quickly (living) in my grandparents' house in the States. So I never met my father. He has since passed. Don't know anybody up there (in Canada)."
"Yeah, she was there with us. My mom was young when she had me — not terribly, terribly young. But my grandmother was only 39 when I was born. I was older than her when my two youngest were born."
Brian Daboll Coaching Career
After graduating from the University of Rochester, where he was a letterman and two-year started in football and obtained his degree in economics, coach Daboll served as a volunteer assistant at William & Mary in 1997.
From 1998 to 1999, was a graduate assistant at Michigan State and joined the New England Patriots as a defensive assistant during the 200-01 season; he was subsequently promoted to wide receivers coach of the Patriots in 2002.
From 2007 to 2008, he was the quarterback coach for the New York Jets; served as offensive coordinator for the Cleveland Browns in 2009-10, the same position with the Miami Dolphins in 2011 and for the Kansas City Chiefs a year later.
In 2013, he returned to work for the New England Patriots as their new tight ends coach; in 2017 was QB coach and offensive coordinator at the University of Alabama. From 2018 to 2021 was offensive coordinator for the Buffalo Bills.
On January 28, 2022, the New York Giants announced they hired Brian Daboll as their new head coach.
"We interviewed several people who are incredible coaches and all of whom are going to enjoy much more success in this league in their current positions and as a head coach," said Schoen. "With that said, we – me and ownership – all felt Brian is the right person to serve as our head coach. Over the last four years, I have observed first-hand Brian's strengths as a leader – he is an excellent communicator, intelligent, innovative, and hard working. Brian's genuine and engaging personality is refreshing. He fosters relationships with the players and coaches around him. He is progressive in his vision and values collaboration, two of the attributes we think are essential. I am thrilled to partner with Brian and welcome he and his family to this side of the state."
Brian Daboll Net Worth, Contract and Salary
As of 2022, it is believed coach Brian Daboll has a net worth estimated at $4 million. Details regarding his contract have not been disclosed, but his annual salary is very possible to be $5 million.
Brian Daboll Wife
Brian Daboll and his second wife Beth Daboll have been married since August 22, 2009, three years after they met at a bar in Buffalo; they have two children of their own (Avery and Luke), plus four from previous marriages, Christian, Haven Daboll and Mark and Aiden Vogel.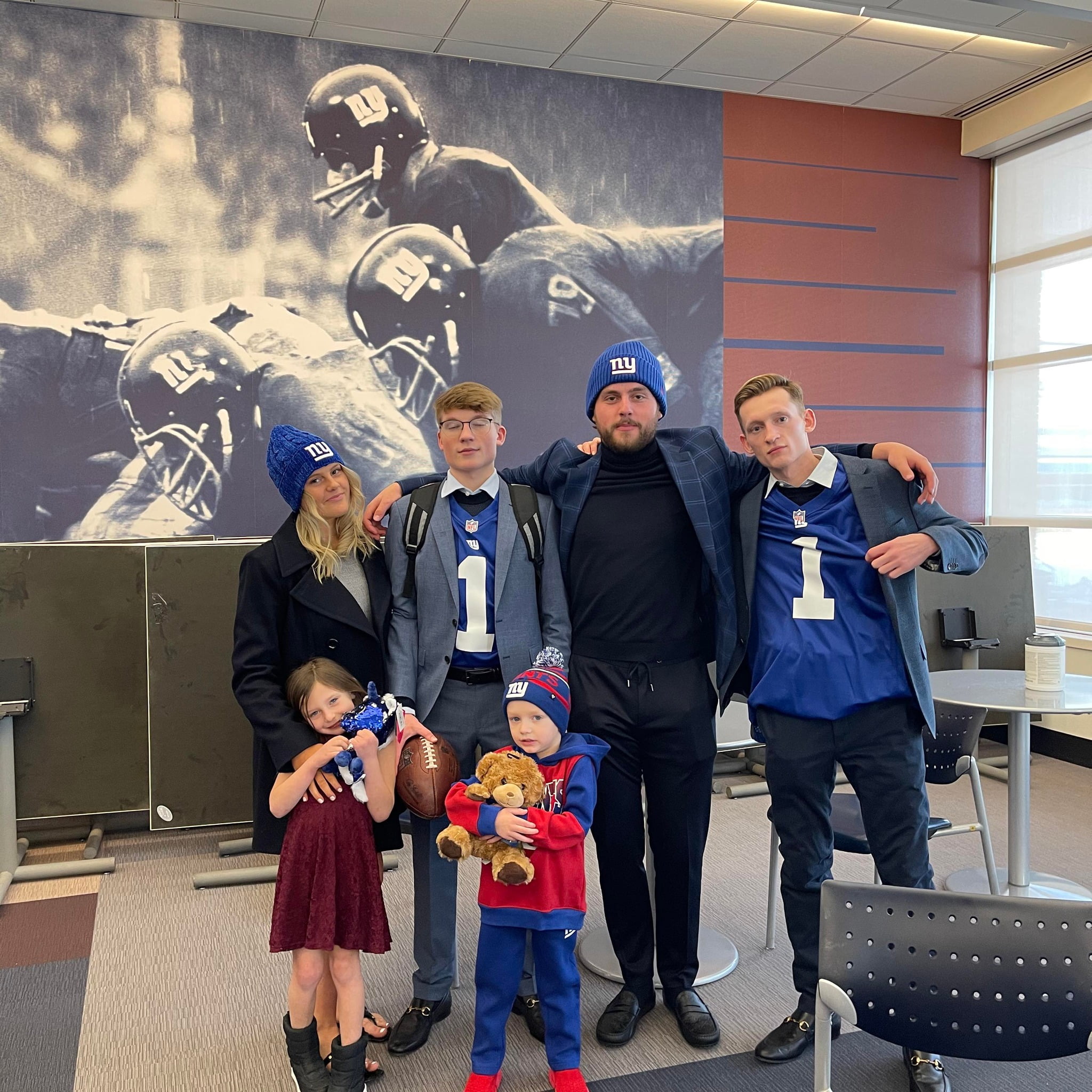 "I do have a thing for bald guys, so the bald head got me first,'' she admitted sheepishly. 
"When we first met, the No. 1 thing was he's just so caring about his kids, and I found that so attractive,'' she said. "Brian and I were both on the same path, parallel to each other. We both got married young, had two kids, both parted ways with our exes on good terms. And, Brian [and] I were the ones being divorced from, so we were both kind of like, 'That wasn't fun.' We both said we would never get married again.''
Beth Daboll
Beth Daboll was born Beth Inez Plauman on February 20, 1978. As noted Beth Daboll a nurse originally from Lancaster, was previously married to Mark Vogel, baseball coach for the West Seneca warriors Baseball team and the father of her two older sons Mark and Aiden.
Coach Daboll has two children from his first marriage, Christian and Haven Daboll; Christian Daboll is an Offensive Student Assistant at Penn State, and Haven is a lacrosse team member at Nardin Academy.