Carla Pardo
Carla Pardo is the lovely wife of Claudio Bravo the Chilean goalkeeper with the National team who currently plays with FC Barcelona.
Claudio Bravo, 31,  signed a deal with FC Barcelona  on June 18, 2014, before that he played with Real Sociedad and Colo- Colo.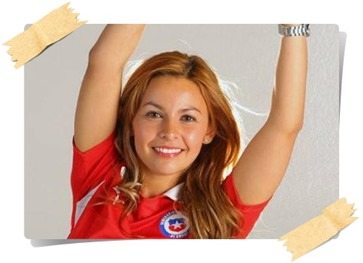 Bravo's wife Carla Pardo Lizana, 26,  has been getting a lot of attention recently, not because of her hubby's great performance, but for her impressive good looks!
Carla and Bravo met when they were teenagers;  both attended school at Viluco. It was there when they started.
Claudio and Carla have been together for more than ten years; they got married in a civil ceremony a couple of years ago, but it was until June 24, 2013, in Chile when they celebrated their religious nuptials.
Their guest included their families, friends, teammates and certainly their three adorable children; Josefa, Maite and Mateo.