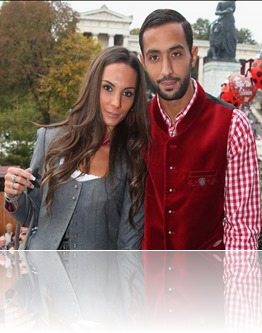 Pin
Meet Mrs. Cecile Benatia, this Fab soccer Wag is the beautiful wife of Mehdi Benatia, the Moroccan soccer player who is currently playing for Bundesliga club  Bayern Munich.
Mehdi was born in France to  an Algerian mother and a Moroccan  father, In 2003 he played with Marseilles, in 2010 joined Serie A club Udinense, joined Roma three years later.
Bayern Munich, Barcelona, Real Madrid and Chelsea showed interest in  the centre back player but at the end it was Bayern who beat them all. Mehdi signed a  five year-contract with the Bundesliga club on August 17, 2014.
Benatia's wife is the lovely Cecile Benatia, 32, together they have two beautiful children, daughter Lina and their cute son Kays.