Meet 27-year-old Spanish model and journalist Christel Castano; she is the wife of Argentine footballer Pablo Zabaleta, who plays as a right back for Manchester City and the Argentina national team. Her man is known for his tenacious style of play. A full-back who started out as a right-sided midfielder, hence the ease with which he gets forward, Pablo Zabaleta had a highly successful youth international career, but has had to wait until the age of 29 to experience his first FIFA World Cup; reads his official profile.
The couple married a year ago, they tied the knot on On June 14 2013, but the anniversary celebrations will have to be postponed till after the World Cup. Before Christel said "I Do" last year she was his long time girlfriend, having dated for 7 years.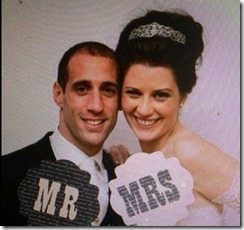 The story of the proposal is very romantic for a guy who claims he is not romantic at all! Castano told the story, saying
"He took me to Paris for our fifth anniversary and I knew something was up because when we got to the airport he detoured to private section flights, he had made a reservation for a private flight. Then we went to the Eifel Tower and he got down in one knee"
After seven-years the girl needed something special right! The couple, who have been together since 2008, moved in together but Christel said about the weather of Manchester
'Of the 365 days a year, about 185 of them are raining, cold or dark. Or all three at the same time.'
A big sacrifice for love. At first she admitted hating having to move to England because of the weather and food. The WAG felt isolated as she did not know anyone who spoke her language and was baffled by fish and chips. During an interview from a few years ago she said
"I come from a Mediterranean diet where fish and veg are a cornerstone of meals.

"When I found out about fish and chips, I thought it was a joke. Taking healthy fish then frying it in batter was a mystery to me."
But the TV presenter also said she has settled into life here after the couple moved into a £1million mansion in Alderley Edge, Cheshire.
"Although the adjustment was hard at first, we have come to love Manchester and everything that makes it special."
Castano appeared on Spain's version of Next Top Model in 2006 but somehow she didn't win!