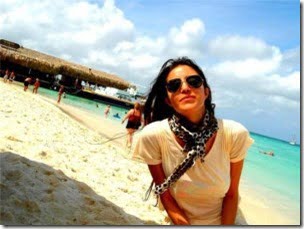 Is your favorite Argentine soccer player Gonzalo Higuain? Well mine too! He's got the cutest face and the cutest girlfriend!
The 25 year old who plays as a forwarder for Real Madrid has recently made headlines but this time not because of his games but because he seems to be engaged!
On april 22, 2013 Argentine Sun-Times reported Gonzalo Higuaín and girlfriend, to be shopping for engagement rings.The couple was seen closely eyeing some pricey bling in a couple of major jewelry stores!
She is Journalist and TV. Producer Daniela Saurwald she was born in Aachen,Germany but currently lives in Madrid. If you were thinking oh well he is Argentine and she from Germany well not quite! Actually baby face Gonzalo was born in France but got his Argentine citizenship in 2007.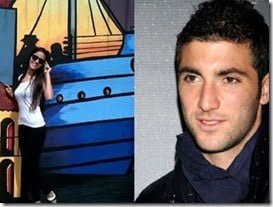 Daniela is the daughter of a well known European financier so she was taught to keep her private life private.
Their relationship allegedly took off in early 2011 right when the soccer player was recovering from surgery she was there to take care of him. That was how their relationship blossomed between laughs and talks from a simple friendship the brunette and "el pipita" started dating.
Since privacy is such a big deal for her family the soccer player had to obey the rules and what for the rest of us a romantic dinner is not on the other side of the moon for the footballer it was almost as complicated as his games!
If he wanted to share a candle light dinner, first he had to make sure no one else was at the restaurant of their choice! That meant only top notch places that would be willing to play along! That's why they don't even have pictures together!
Another funny fact of their relationship was that their friends would post comments of Facebook but Daniela would quickly delete them!
But hey! Every sacrifice has its reward right! She is a stunning girl and they make a great couple but being so conservative could it be she is pregnant and that' why all the speculation on their engagement????
Gonzalo and Daniela's Twitter account were hacked last October, it was believed the hacked was a jealous female fan who couldn't stand their relationship, this is what he said about his relationship with Saurwald.
"Sí, tengo novia, es Daniela Saurwald ya me cansan preguntándome eso. Gracias por el apoyo pero no hablamos de nuestra vida privada", contesta Higuaín a quien se lo consulta.

"Es mi novia y espero que la respeten como se merece, gracias",

"Yes, I have a girlfriend Daniela Saurwald, I'm tired with the people asking me the same question, Thanks for the support, but we don;t talk about our private life, She is my girlfriend and I hope she gets the respect that she deserves, thank you."
You can follow her on twitter here.